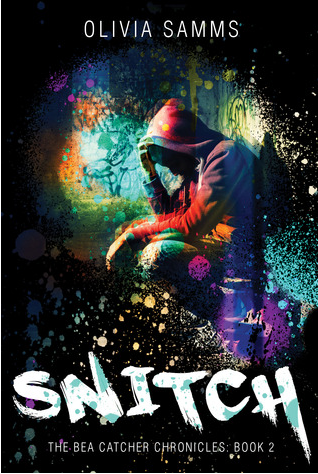 Genres: Young Adult, Paranormal, Mystery
Series: Bea Catcher Chronicles
Previous Reviews: Sketchy (#1)
Release Date: April 1, 2014
Publication House: Skyscape
Number of pages: 246
Source: Finished copy from Author
Check out on GOODREADS
Buy on AMAZON | THE BOOK DEPOSITORY
Secrets. Lies. They smother. But the truth—sometimes the truth is worse. It kills. Leaves blood on your hands.

As the days count down to her eighteenth birthday, Bea feels trapped. Trapped by her dark past, by her parents' expectations, even by her own dreams for the future. The road ahead is unclear, blurred with secrets and lies.

The only constant, sure thing in her life is Sergeant Dan Daniels. He's faced with a gang-related murder case and asks Bea to use her "skill" to see and then draw the truth out of the suspect…literally. But when she does, it leaves her with more unanswered questions. And then another teen is shot—clinging for his life.

Time is running out. Can Bea find the killer before someone else gets hurt?
When I first read about Bea in Sketchy last year, I was instantly captivated. She was a seventeen year old girl of African American and Italian descent, loved anything vintage, had a cool gay best friend, had just finished rehab, and had the power to draw the truth from people she eye contacts with. Aside from all these, she had a realistic voice for a seventeen year old that gave the overall air of the book a fun edge. I loved getting to know her as well as her frustrations not only with demons in the past and in the present, but with her parents as well. And in Snitch? I loved her even more here. She continues to be feisty, curious, brave, and lovable as ever.
Ever since encountering and being helped by Sergeant Dan Daniels a few months ago, Bea has been meeting up with him secretly to help with his cases. One day, he brings her in to draw the truth out of Junior, a young teenager they caught having drugs in his stash, who they suspect is actually innocent and covering up for someone else. And they want to know who. Bea successfully draws some hints out of him, but when she sees how Junior is so scared and would rather stay in prison than walk free, it becomes apparent that there is more to the situation than what meets the eye. Would Bea really have the heart to tell Sergeant Dan Daniels the clues when it could mean Junior's life?
First of all, let's talk about Bea.
I said it before and I'll say it again: I love her. You can tell that despite having flaws here and there, and having done countless mistakes in the past, she is a good person who looks out for other people, even those she doesn't personally know. The way she immediately changed heart after seeing Junior's vulnerability only goes to show how some people with tough facades can also have soft hearts deep inside. Her determination to know the truth, her courage to find it despite having to plow through deep, dangerous waters, was not only so inspirational but endearing, too. She still has a lot of spunk in her, as she does what she wants but is careful not to step the toes of other people. So many times we've seen heroines who are too reckless, or too impulsive, that they don't see beyond themselves. Of course this is to show their selfish sides, which is very human and not uncommon, but for me, there are other ways to be flawed and still be humanely compassionate, and Bea is the perfect role model for that.
I do have a few complaints, though…
COMPLAINT #1:
There was this one instance at the beginning where Bea goes to school and sees her best friend, Chris, making out with another guy. She talks about the scene in this manner:
Chris is standing behind his car, madly sucking face with his boyfriend, Ian, a junior, and, LOL, the guy he wants me to draw because he's afraid he isn't into him anymore.
ASDASFASFASDASFAFDAS
Why? Why use the word "LOL" in an internal narration? I can understand if it's in a text message or even in a chat service, but while describing a scene? I can even tolerate it when you say it in jest or as a way of mocking internet slang by inserting it in everyday phrases, but, here? Come the fuck on. It's out of place, it's ridiculous, and just annoying. I swear as soon as I read this one, I put the book down and stared at it with judging eyes for a good 5 minutes. I love Bea, I really do, but shit like this just gives me a big migraine. Lesson of the day? Internet acronyms/abbreviation have no place in books/literature. NONE. Unless of course it's in a text or chat message. I've asked around on Twitter and almost every response agreed with me on this. It makes us cringe and shake uncontrollably.
COMPLAINT #2
There was another scene in a flashback episode where Bea got some girl-to-girl action with some dude's gorgeous girlfriend. I support LGBT 100% but this scene where they enter the bathroom and just did… it… felt so unnecessary. It felt like it had no purpose to the storyline at all other than to provide a bit of shock value, and its meaning was just completely lost on me. And seriously, the girl already has a boyfriend. She may be using him for this or that, but she still has one, and doing that with her behind closed doors is just kind of reprehensible. I'm sorry to say but  Bea lost a bit of brownie points from me after that.
Aside from that, the plot and pacing were quite fast-paced and fit nicely in the storyline. We do have some internal narration and monologues from Bea every now and then, but they don't drag and the story knows when to move on so we the reader doesn't get too bored. It has a bit of unpredictability in it as I wasn't able to guess who the suspect was, but it was not surprising or shocking as well.
A good thing about this book and this series as a whole so far is that parents are present (insert gasp here. PARENTS? PARENTS WHO ARE NOT DEAD/LIVING AWAY/SEPARATED/WORKAHOLICS?!). They are an integral part in Bea's life as she starts piecing her life together and finding out what she really wants. They are frustrating and annoying, but are also wise and loving. They also make mistakes. They also are human, just like each and every one of us. They can be vulnerable, too. In a nutshell, I loved how real they are here and how flawed they are, too. So many times we think parents know everything, are immune to mistakes, and are all-encompassing. Snitch however reminded us they also  have their own demons to face.
Another good thing about this series is that it's episodic. You can try the series by reading the second book and you won't feel left out at all. It's like the series as a whole has one huge storyline, but it is told through smaller subplots that are in each book. If you haven't read the first book, Sketchy, and want to dive in already by reading Snitch, go right ahead. All in all, a good book to a good and promising series.

Rating Report
Plot
Characters
Writing
Pacing
Overall:
3.9
The following two tabs change content below.
Faye
A 21 years old Filipina who loves books, games, languages, and most especially, food. Secretly wishes to be an astronaut so she can explore the stars. Has a love-hate relationship with Philippine politics. To get in her good graces, offer her Foie Gras, Or shrimp. Or a JRPG. A YA sci-fi book works, too. You can follow her on twitter here:
@kawaiileena