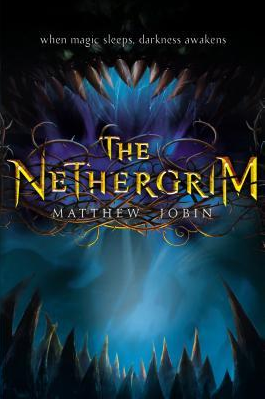 Genres: Young Adult, Middle Grade, Adventure, Mystery
Series Name: The Nethergrim Trilogy
Release Date: April 8, 2014
Publishing House: Philomel
Number of pages: 368
Check out on GOODREADS
Pre-Order on AMAZON | THE BOOK DEPOSITORY
Everyone in Moorvale believes the legend: The brave knight Tristan and the famed wizard Vithric, in an epic battle decades ago, had defeated the evil Nethergrim and his minions. To this day, songs are sung and festivals held in the heroes' honor. Yet now something dark has crept over the village. First animals disappear, their only remains a pile of bones licked clean. Then something worse: children disappear. The whispers begin quietly yet soon turn into a shout: The Nethergrim has returned!

Edmund's brother is one of the missing, and Edmund knows he must do something to save his life. But what? Though a student of magic, he struggles to cast even the simplest spell. Still, he and his friends swallow their fear and set out to battle an ancient evil whose powers none of them can imagine. They will need to come together–and work apart–in ways that will test every ounce of resolve.
For many months now, I've been trying to find that perfect YA Fantasy book to satisfy my thirst, but have found nothing that could really satiate that intense craving. So many of them these days have vague and shitty world-building, flat characters, and plotlines that are more apt to be called "plotholes". The majority of them also put too much emphasis on the romance, so much sometimes that other important aspects are forgotten and greatly overshadowed (I am looking at you, The Winner's Curse). Since then I've cursed this genre under my breath, and despaired over the fact that books of quality that are more about the adventure and friendship are far and few between.
Thankfully, just like how Vithric saved Tristan against dark and sinister creatures (which pretty much jumpstarted their saving the rest of the world), The Nethergrim rescued me from this dark abyss and gave me hope that perhaps this genre isn't so dead and lackluster after all. The spectacular and visually-enticing cover aside, I enjoyed this book a lot, and found myself not having problems at all picturing it in my head. In fact, I'd go ahead and say everything about this book screams BLOCKBUSTER FILM. Character-wise and (especially!) plot-wise, I can see it perfectly as a film that people of all ages would enjoy. Yes, adults, you can read this and not worry about gouging your eyes out of your sockets. It's that good.
The Nethergrim follows the story of Edmund. He is the son of an innkeeper and is expected to inherit the business, but deep inside, he has the heart of a wizard. Despite his father's disapproval, he hoards books that talk about magic and tries to understand them whenever he is out of his father's sight. He is resigned to his "fate", but at the same time, he can't resist his own calling. One day, tension rises in the town when livestock and farm animals keep disappearing, only to be found days later completely eaten except for the bones. It rises even higher when children also started disappearing, a situation that's oddly similar  to one many decades ago, when the feared Nethergrim caused havoc in the region. But that can't be, right? The Nethergrim was slayed by Tristan and Vithric. In that case, there can only be one answer: he has risen again.
CHARACTERS
What I appreciate the most about this book is the fact we follow a trio of normal friends. And by normal, I mean they're not les chosen ones that are often too apparent in Fantasy books these days. Edmund is the son of an innkeeper who loves to read and learn new things in a town where the majority of the residents don't even know how to write their name; Katherine is the daughter of a stable master who has been trained to fight with swords, and; Tom is the slave of a cruel master, who makes him work hungry and tired until the light of dawn. Three different individuals whose backgrounds paint a picture of the lifestyle of the medieval ages, I find them the book's strongest points, as even though they're different from each other, when put together, they blend beautifully. 
There were times I did want to punch Edmund, but for the most part, he's a cool main character. I love how he isn't someone who's inherently good at what he does. We see his frustration as he tries to learn how to cast magic, and how he's determined to steal one after his father burned his stack of hidden books (nooo!). I love how despite not being someone really special, despite not being strong enough or smart enough or witty enough, he still goes to save his brother from the clutches of a highly sinister entity. He is definitely easier to relate to in many levels as his struggles feel real and familiar.
If I have a complaint regarding this aspect, it is that I felt Katherine and Tom are not fleshed out enough. We get a bit of backstory from them, but unlike towards Edmund, I am not as attached as I want to be (I do feel sorry for Tom, however. His master's very cruel and the instances when I wanted to jump into the story and punch the lights out of him were too many).
WORLD-BUILDING/SETTING
Unfortunately, we only see a bit of the world here, and only in the parts surrounding Edmund's town. I'm not really bothered about it, though, as during reading, I was able to visualize the sceneries and the scenes clearly. There is a map included in the book, which gives a detailed illustration of what this part of the world looks like. Yes, this book is largely centered on a small area, but the end of the book hints of greater adventures beyond the world Edmund and his friends have known, and I'm terribly excited about it.t
With regards to the origins of The Nethergrim, what I appreciated about it is the fact we don't know much about it because the heroes who've fought against it are mum about what happened. What it is, where it's from, where it lies, are all a mystery the majority of the book, and the journey of finding more about it was fun and intriguing.
ACTUAL PARENT-CHILD RELATIONSHIPS
Man, can you believe this? A YA/MG book where parents are actually existent! I shit you not when I say the majority of books in these demographics usually has the absent parent syndrome, where they're a.) workaholics; b.) dead; c.) on a honeymoon in the Caribbean and won't be coming back for, oh, the next few weeks. Give or take.
Kidding aside and all seriousness in now, I really appreciate how The Nethergrim realistically portrays parents and their roles in the lives of their children. There are parents who expect too much from their sons and dismiss their individuality for the supposedly "sake of the greater good". There are parents who realize their mistakes, learn from it, and become better fathers. There are parents who are loving and caring and willing to sacrifice their lives. The whole package. They aren't absent, they're here, and they're not going away anytime soon.
TWISTS
There are times I think I've read everything and nothing can surprise me anymore. Most of the time, that's true. When I read the usual book, I can see the twists coming miles away, and the sheer predictability of it all makes me very sad. I love it when a book surprises me, when it shocks me, when it angers me (in a good way…), when it leaves me with my jaw wide open.
I am very sorry to say that when I started this book, I expected less of it in that regard, because I thought I could call on the twists early, but apparently that was naive of me. Many times throughout the book, I was left thinking, "Holy shit, what the fuck? Are you serious?!" and then go, "Crap. I didn't see that coming."
Of course, being the very compassionate and kind reviewer that I am, I'm not going to disclose what those twists are (I am quite tempted to, though), but let's just say if there' one thing you can definitely look forward to here, it the assurance the climax will take your breath away.
OVERALL…
I love it. There are some stuff here and there that may need a bit of polishing and tweaking, but overall, it's a fun read that will prove itself enjoyable to all ages and sizes. It's that kind of book whose storyline you can perfectly see could work as a film. Plus, with the trio of main characters, there will rarely be a boring moment. Some may find it too young for their tastes, and I can finally understand where they are coming from, but it's an enjoyable read nonetheless!

Rating Report
Plot
Characters
Writing
Pacing
World-building
Impact
Opening
Climax
Ending
Overall:
4.2
The following two tabs change content below.
Faye
A 21 years old Filipina who loves books, games, languages, and most especially, food. Secretly wishes to be an astronaut so she can explore the stars. Has a love-hate relationship with Philippine politics. To get in her good graces, offer her Foie Gras, Or shrimp. Or a JRPG. A YA sci-fi book works, too. You can follow her on twitter here:
@kawaiileena