Every Monday, the people here at The Social Potato will be doing a recap of one episode of Mischievous Kiss: Love in Tokyo! Right now, we're doing episode 1!
Basically what happened was this:
– Kotoko has been in love with smart, cool, and tall Naoki Irie for 2 years already. She finally got the courage to confess to him through a letter, however, Naoki rejected her and didn't accept her hand-written confession.
– A few days later, while celebrating the finished construction of Kotoko's new house, a meteorite falls from the sky and crashed into her new home. Due to faulty structures, the house fell. (eh-heh)
– Thankfully, they're not homeless just yet! A friend of her father offered to take them in for the meantime! Yahoo!
– But fate has something else in store for our dear Kotoko! Apparently, her dad's friend had two sons – and one of them is Naoki Irie-kun, the very same guy she confessed to!
What did I think?
I love the actress who starred Kotoko here (her name is Miki Honoka, btw). She's super clumsy and kind of stupid, but she's really adorable and kind. She really captured the spirit and character of Kotoko Aihara that I loved in the manga and anime. Many times in the show I just wanted to pinch and kiss her cheeks, heck, I'd go lesbian for her if that were an option. This was the kind of character that I felt Ariel Lin also radiated with, and something the Korean version lacked (I actually watched ISWAK yeeaaars ago, and recently tried the first episode of Playful Kiss, and I was left unimpressed).
As for the guy, I'm unsure what to feel about him. Joe Cheng was perfect as the Naoki Irie in the Taiwanese version entitled It Started With a Kiss, but the actor here looks… young. Not that I'm complaining, because I googled pictures of him and he kinda grew on me, but my initial impression was quite… appalled. It didn't help either that in the first episode he acted kinda stiffly. I mean, look at this: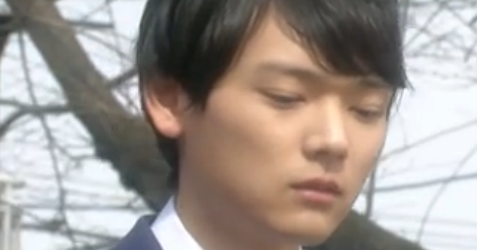 I'm sorry, but what. Compare him to this:
Right. That guy over there looks like a cold-hearted, but grown-ass man.
This one, though?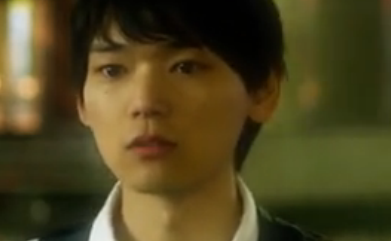 I'm sorry, but that doesn't look like the most popular guy in school to me. That looks like a 12 year old boy lost in the middle of Tokyo, lol.
But of course, it's just the first episode… I'm not going to be mocking about it. At first, I felt it was a miscast. They could've casted Oguri Shun for this, for pete's sake! But eventually, he just started becoming cute in my eyes, and now I'm a LEGIT fan of him.
YUKI FURUKAWA FANS UNITE!!!!
But aside from that, I think he showed the real Naoki in the manga clearly. Cold-hearted, mean, obnoxious. Although seriously Naoki-kun, why ask someone to move aside when the pathway is wide enough for 12 people in a horizontal line to go through?
Also, this episode? ABSOLUTELY HILARIOUS. I laughed so many times. When Yuki (the little brother) was making Kotoko read some kanji (this is Japanese calligraphy, quite similar to the Chinese's), Naoki's face showed that of embarrassment. Not for him, but for the fact that she was making a fool of herself! Goodness, the hilarity of the scene! Naoki's dad was such a munchkin, too. Loved it!
As for the mom, I also think she illustrated Naoki's mother perfectly. Eager, lively, preppy, just all around optimistic. She became such a good friend and supported of Kotoko this early, and immediately wanted her as a daughter-in-law! Such a good change from the snobbish mothers we often see in this kind of TV shows. PLUS ONE FOR YOU, MOMMA!
Just a few things:
That scene with the house collapsing was ridiculous that it was funny. In the original version, there was actually an earthquake, and it was only their Kotoko's house that collapsed due to faulty structure. Here, a 2 centimeter meteoritesfalls from the sky, and puts a hole onto the roof. We zoom into Kotoko's eyes, and we see in a reflection the house going down. Uhhh okay.
Kin-chan, a male friend of Kotoko and someone who likes her as well, was acted kinda exaggeratedly. I love Japanese dramas, but there are times they overact and it doesn't feel natural anymore. The best acting awards definitely go to Kotoko's actress. Her facial expressions are very natural to me, and they are not irritating at all.
All in all, good start. Not dragged out (like the Korean version, ugh). LOOKING FORWARD TO THE REST!
What do the others think?
My first J-Drama!!! or is it dramedy? Or not a drama at all? No fucking clue but who cares! Just when I think I prefer the anime, I don't. On the one hand, what I do like about the serial is the lack of overload of high-pitched voices. That seriously grates on my nerves, be it subbed or dubbed. So proper, even throaty voices and me gusta!!! On the other hand, Kotoko, our MC, while endearingly perky(unlike a lot of shoujo MCs, who are annoyingly perky), has myriad expressions better suited to anime or manga. It all starts to seem contrived and my face hurt simply from watching her shift through all the expressions. Also, she seems to be making up for the main dude, whose facial nerves seem to be disconnected from his feelings. Or maybe he has no feelings. But beyond that, it was good. A little typical, but I liked when Kotoko stood up to the guy's assholi-ness. . Maybe it was the voice(not really).You go, girl!!! Awaiting the next episode…
—–
My first impression on Kotoko was that she's really 

kawaii

. The storyline was very entertaining, and there were lots of hilarious moments. I like Kotoko's friends because they were honest with her, and they seem to care a lot about her. Kin, as an admirer, was really sweet. He's also a good friend. His passion towards helping Kotoko when she was in need was so endearing. 
Naoki's indifference towards everything was so evident that, as an audience, I wanted to slap him senseless. In this first episode, I found him arrogant and rude, and I truly disliked him. His physical appearance is child-like that I couldn't imagine Kotoko and him together, but we'll see how the story goes. I look forward to episode two.
—–
This is a show I would only recommend to people who are interested in a light and funny program. There are a lot of things that serious people might not find funny here. It's a typical story, and episode one is pretty stereotypical and really weird, but hilarious overall!
—–
I haven't read the manga, and this was my first time watching a J-drama (I've watched plenty of K-dramas), so I wasn't sure what to expect. The first thing I need to get off my chest is that the acting is bad. Like, terribad. The main male lead, Naoki, was completely static throughout the entire episode, and Kotoko was cringe worthy at some parts. Despite this, it was really endearing to watch, and some moments made me laugh or frown sympathetically. When Kotoko got rejected by Naoki, I wanted to hug her and offer some chocolate. I'm excited to see more, though I do hope the acting improves somewhat. 
—–
I think episode 1 is a strong start to this JDrama, I remember checking out the manga but haven't really read it in full so I don't remember it much but I do know that the characters are pretty much spot on and I love how positive Kotoko is…so cute and adorable! All in all, it's a great episode that definitely had me wanting to watch more!
—–
The first episode was funny and cute. Kotoko Aihara, a lively, dumb Tonan High 3rd year student confesses to her 2 year crush, the smart, but indifferent Naoki Irie. Upon public rejection only her friends Jinko, Satomi, and Kinnosuke can cheer her up when she is made fun of. I'm so glad I decided to give this drama a chance because it turned out to be way better than I expected. It's very refreshing and I really miss watching romance-comedy drama series. It wasn't amazing, but it mixed well with the fluffy vibe.
—–
I am kinda new to this kind of series since I've not really watched any kind of Japanese series at all. Though I had to admit that this series looks cute, I have some issues that I'm not really keen on. I'm trying to get used to the special FX and sounds that keep on popping out, sometimes it irritates me and sometimes it just makes me laugh.
Characters were pretty okay. I like Kotoko, she isn't that pretty or smart. But I like her optimistic attitude and light personality. So far I only see Naoki as a douchebag. Hate how he treated Kotoko when their house was destroyed, even when the episode ended, he's still pretty much of douchebag. :( Though I'm hoping that things get better.
Want to join us? Come on and join the fun!
Just click on the picture below to join!
See you next week for the second episode!!!
The following two tabs change content below.
Faye
A 21 years old Filipina who loves books, games, languages, and most especially, food. Secretly wishes to be an astronaut so she can explore the stars. Has a love-hate relationship with Philippine politics. To get in her good graces, offer her Foie Gras, Or shrimp. Or a JRPG. A YA sci-fi book works, too. You can follow her on twitter here:
@kawaiileena