Every Monday, the people here at The Social Potato will be doing a recap of one episode of Mischievous Kiss: Love in Tokyo! Right now, we're doing episode 3!
Basically, what happened was this:
– After being coldly told off by Naoki in the second episode, Kotoko goes home deeply saddened. She falls asleep looking at the letter she wrote to Naoki, lamenting how it will never be read by him.
– Naoki knocks on her door, telling her the bath is ready for her to use. Hearing no answer, he goes inside, sees her fast asleep with the letter on the table. He takes and reads it, saying nothing.
– Kotoko's friends, including Kin-chan, decide to go to Naoki's house to spy on them. They see the household having dinner, feasting on the food Kotoko's father has made (he is a chef). However there are a few dishes there that are disgustingly made by Kotoko, and the brothers' dismissal of them makes Kin-chan angry.
– The feast takes a sharp turn when Naoki's mother says Kotoko will marry into the Irie family, leaving everybody surprised. Naoki says she doesn't want her. Kotoko says he doesn't want him, either. Naoki sneers at her face, taunting her how that wasn't true, and recites Kotoko's letter for him at the dinnertable, earning him a slap from the distraught Kotoko (NOT COOL, IRIE-KUN!). Unsurprisingly, Naoki's mother is happy at this… she's the number one supporter of their ship after all.
– Kin-chan and friends disrupt dinner… -_-
– It's summer, and Kotoko has extra classes because while she did well in the finals, her midterms was bad. She sees Naoki playing tennis in the field and is mesmerized once more, earning her laps around the field for her daydreaming in class.
– Kotoko gets tips from Naoki's mother how to pursue love!
– Both fathers go to a reunion. Seeing as this is the perfect opportunity for her son and Kotoko to bond, the mother goes on a trip to "attend" to her "sick mother" with Yuki.
– Kotoko sees this as a chance to cook for Naoki! However it becomes a mess and Naoki ends up doing it over and cooking for both of them.
– Kotoko can't seem to finish, let alone understand her homework. She decides to go to Naoki's room to copy his. She gets caught, though, and some interesting stuff happens. Overall, it ends up with him helping her with homework… again.
What did I think?
I still love this series. There's just something really cute and light and fulfilling about it. Some of the Asian dramas I've watched were heavy on the angst side, so I always appreciate it when a show gets me to relax like this one did.
Still, even though I watched this in a relaxed manner, I cannot help but get angry at Kotoko's friends. They are super loud and quite self-centered. I get that you're curious about the Irie family, especially now Kotoko is living with them, but that's really no excuse to spy and disrupt their dinnertime. Like seriously, Kin-chan just jumped into the scene without thinking, yelling and shouting and challenging Naoki when there were parents and a little child in the room. If I had friends like that, I'd be so pissed; no, scratch that, I wouldn't be pissed because I wouldn't choose friends like that in the first place. RESPECT MY PRIVACY, PLEASE!
Ugh, Kin-chan is cute in essence as he's super lively (and he's really funny in the anime) but I wish the actor didn't overdo it. Like Stuti says, it feels like he's trying hard to be an anime character.
Other than that, I can really feel Naoki's well-guarded wall crumbling down. I mean, there are still a long ways to go, but we definitely are getting there. When Kin-chan was challenging him how Naoki doesn't like Kotoko anyway, the cold genius went on to say that it may be like that now, but it could change in the future. Perhaps he just said this at the spur of the moment, and perhaps he just said this to lead Kotoko on, but it was a non-Naoki thing to say. Now let's just hope he say these things and don't do the opposite, but knowing him… >.>
How could you NOT love this face?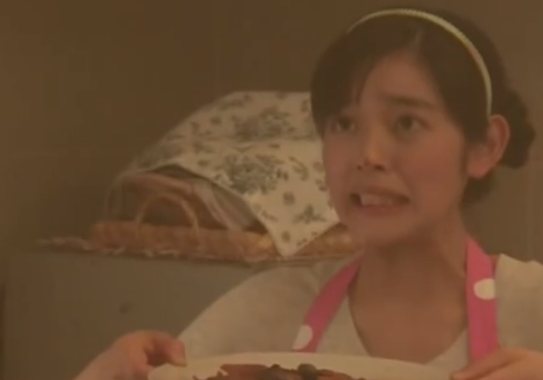 Hilarious. And cute. That's when she was messing up her and Naoki's dinner by the way.
Also, Naoki's mom continues to be the cutie-patootie eager beaver. She's seriously the number one supporter of her OTP (Naoki x Kotoko), and she fangirls SO MUCH that it becomes creepy sometimes. I wouldn't want her as a mother, haha, although I can live with her as a mother-in-law.
Also, she's so pretty. I want to look like this when I get older ;A;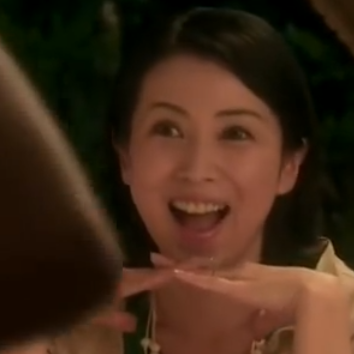 Overall, cute episode. Let's hope for more character development next time!
---
What do the others think?
I found this episode to be a lot more serious and romance-oriented than the past two episodes, but I really enjoyed it regardless! I missed the humor and the light and fluffy aspects from the earlier episodes, but the serious, romantic undertone definitely grew on me over time. (In a way, it kind of reminds me of the book Flippedby Wendelin van Draaen – which I absolutely loved!)
As always, I absolutely loved Naoki's mother! She's such a great parent, and there were so many times when I just felt like laughing from the things she said. Not only what she says, but the way she says it is just absolutely hilarious!
Kotoko was – as expected – a definitely solid protagonist. She's someone I know everyone will be able to relate to in one way or another, and I really enjoyed that. Her humor, the way she covers up the mistakes she makes, and her attraction to Naoki is all so genuine and relatable.
As for Naoki, I'm trying to decide what exactly I think of him. As a person, I find him just flat-out horrible. The way he ignores Kotoko when he knows she likes him, the way he manipulates her to do what he wants by using her attraction to him as bait (the scene in his room at the middle of the night was just awful!). I'm sure he has a soft spot that's going to come out later in the season, but for now, let's just say I'm not the biggest fan of him.
All in all, another great episode! As my first J-Drama, I'm really liking it so far, and can't wait for episode 4!
Naoki's still kind of a jerk in this episode, especially when he taunted Kotoko about her love letter during dinner. If I was her, I would have done a lot more. . .also can we get Kotoko some new friends? Ones that aren't stupid? Anyway, I loved this episode. I'm finally starting to see some romance on the Kotoko/Naoki front.  
Like with about every other thing, I seem to be falling out of love with Mischievous Kiss just as hard as I fell for it. I'm not in the kids. I'm not big on J-drama. Maybe this is how it goes but I'm more comfortable with critiquing books and let me tell you the things I would rip a book(figuratively) for are in abundance in the third episode of the show.
Everyone is brushing off everything; everyone is way too damn meddling and they're ALL being asses. The actions of import, one that could make or break a relationship or acquaintance, at the very least, are dealt with momentarily. Hell no, it's not even dealt with. Because they're busy moving forward to the purported cuteness of the romance. It's not cute anymore to me. Kotoko is not cute anymore, she's kind of a doormat. A few other things pissed me off, like Kotoko's father's comment that Kotoko will never get a husband because she can't fucking cook. Ass. There are so many issues I had with this comment. And reactions, and lack thereof, from the others.
I'm not quitting which I do for just about every other thing because maybe it'll get better? Also, I got nothing better to do.
I am seeing more of Naoki's good attitude! <3 So far, I'm liking more of Naoki this time. I'm seeing him more as sensitive towards Kotoko. Long story short, I'm getting more and more addicted to this series!
I wanted to hug Kotoko after going home with so much sadness because Naoki got mad at him. In this episode, Naoki finally read Kotoko's love letter when he entered her room to let her know that she can use the bathroom to shower. I was waiting for him to actually smile, but, NO. Still no smile. He used this knowledge to hurt her again during a family dinner.
As usual, Kin comes to Kotoko's rescue. Sometimes it makes me sad when the other guy, who's persistent and kind, doesn't get the girl, but that's how life works. Both parties should like each other.
Naoki was relentless, though.
You never know people's feelings. I might hate her today, but might fall in love with her tomorrow. – Naoki
Kotoko's feelings are being played. When they were left alone in the house, Naoki pretended to want to take advantage of her.
Even though, Naoki pretends to be really cold-hearted, he loved Kotoko's coffee. I LOVED THAT SCENE. Ahh, the smell of coffee is love!
At the beginning of the episode, I again felt really bad for Kotoko. She's so adorable and pure of heart that you really can't help but root for her. I was back to that same feeling of wishing that Kotoko just let go of her feelings for Naoki because he just doesn't deserve her! I do feel like he does reluctantly like her though, or he's starting to at least. Plus, I think this is the first time that the mother of the hero actually likes the two lead characters together, and it's really refreshing to not have that star-crossed lovers drama. Overall, this was a great episode but I'm still not warming up to Naoki, but I can definitely see him starting to like Kotoko around.
Naoki's mother was super lovable in this one. She was hilarious! Naoki himself was a huge ass in this episode, but who could possibly resist Yuki Furukawa's face? But oh my, when he smiled, helped Kotoko cook and helped her with her homework? Cue intense swooning. The ending of the episode was really adorable. Kotoko was her usual delirious, preppy, hopeful self. :)
Want to join us? Come on and join the fun!
Just click on the picture below to join!
See you next week for the fourth episode!!!
The following two tabs change content below.
Faye
A 21 years old Filipina who loves books, games, languages, and most especially, food. Secretly wishes to be an astronaut so she can explore the stars. Has a love-hate relationship with Philippine politics. To get in her good graces, offer her Foie Gras, Or shrimp. Or a JRPG. A YA sci-fi book works, too. You can follow her on twitter here:
@kawaiileena