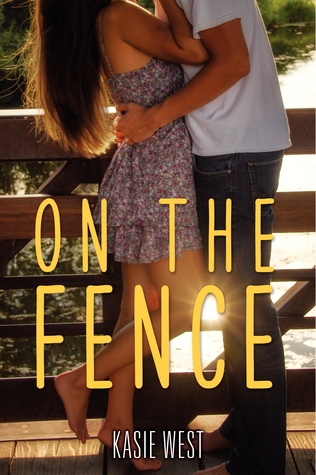 Genres: Contemporary, Romance, Young Adult
Release Date: July 1, 2014
Publisher: HarperTeen
Number of pages: 320 
Source: ARC from Edelweiss
Check out on GOODREADS
Buy on AMAZON | THE BOOK DEPOSITORY
She's a tomboy. He's the boy next door…

Charlie Reynolds can outrun, outscore, and outwit every boy she knows. But when it comes to being a girl, Charlie doesn't know the first thing about anything. So when she starts working at a chichi boutique to pay off a speeding ticket, she finds herself in a strange new world. To cope with the stress of her new reality, Charlie takes to spending nights chatting with her neighbor Braden through the fence between their yards. As she grows to depend on their nightly Fence Chats, she realizes she's got a bigger problem than speeding tickets-she's falling for Braden. She knows what it means to go for the win, but if spilling her secret means losing him for good, the stakes just got too high.

Fun, original, and endearing, On the Fence is a romantic comedy about finding yourself and finding love where you least expect.
REVIEW
Upon a few minutes after reading this, I immediately gave it five stars. I mean, why not? It was a quick, short story with a relatable heroine, an adorable love interest, and family was present! After giving it some thought, I realized that I quickly forgot the story after just a couple of days. A read that isn't memorable shouldn't be given five stars, I guess.
"Sometimes we expect more than people are capable of giving at the moment."
Anyway, Kasie West does not disappoint. As of the moment I have read all of the novels she has published and enjoyed each and every one of them, even if I don't really consider them to be major favorites. She just has this easy to follow, fun writing style. There is never a dull moment with West's humor. I think it's a writing style that teens can easily get into.
The writing, plus the just right pacing, will make the story one that's easy to follow. I mean, I normally think a book is either moving on too fast or too slowly, but somehow On the Fence had perfect pacing! There was proper development, enough time for all the characters to do significant things and for things to be realized.
Charlie was an easygoing character that I easily sympathized with. She struggled to find her true identity, which a lot of teens do have a problem with. She had three older brothers who she loved and who loved her. They were all adorably protective of their sister, which I loved seeing. I've always wanted an older brother. I'm glad family plays a big role in this story.
On the Fence had a pretty generic plot: Charlie's "one of the boys", and suddenly she thinks she should become girly, and she starts crushing on one of her brother figures on top of that. Although I couldn't say this is a unique story, it was still enjoyable and a lot of readers will have fun following Charlie on her journey to find herself.
Now we have this cutesy romance with Braden, one of the guys she always hangs out with. They chat from the opposite sides of the fence that separates their houses, and I found their talks to be really endearing. Braden was a guy who anyone can easily fall for: caring, kind, sweet, charming. Can I have him, please? But he and Charlie just had such good chemistry–I wouldn't want to come between them! They were hilarious and really cute as a couple and as friends.
Rating Report
Plot
Characters
Writing
Pacing
Romance
Impact
Overall:
4.1
The following two tabs change content below.
Aimee is a sixteen year old bookworm from the Phillipines! She reads any book that catches her attention, but she mostly reads YA. She's into graphic design, writing and sleeping. You can find her at
Deadly Darlings
,
The Book Geek
,
Goodreads
and on
Twitter
.