Every Monday, the people here at The Social Potato will be doing a recap of one episode of Mischievous Kiss: Love in Tokyo! Right now, we're doing episode 4!
Basically, what happened was this:
– It's the New Year! Our friends are off to the shrine to pay their respects and to pray for good fortune as they welcome the new year (which also means they'll be going to College now… Yay!)
– For helping her pass her studies, Kotoko gives a head massager as a present to Naoki. Yeah, what the fuck, right?
– Kotoko sews a good luck charm, which she gives to Naoki. She hopes this will help him as he takes the National Exam, an exam taken in Japan to ascertain which universities you can apply for.'
– Both have a heart-to-heart talk about College. Why do we need to go to College? What's the point? Etc.
– Exam day! Naoki finds himself having a cold. The whole family panics and he ends up drinking a medicine that makes him drowsy as an after-effect… uh-oh. KOTOKO'S FAULT, AGAIN!
– Misfortune is bestowed upon Naoki as he keeps getting into trouble one after another. The charm gets stuck on the elevator; Naoki falls down the stairs; his pencils get broken; and he feels sleepy during the exam. THAT BLASTED CHARM!
– Thankfully, Naoki passes with flying colors, and he becomes eligible to take Tokyo U's entrance examination. To ensure that Naoki successfully enters the campus grounds, Kotoko accompanies him.
– Unfortunately, when they get there, she is in great pain. She endures it all this time so as not to worry Naoki. Just as he is about to enter the grounds, she faints due to pain, and Naoki carries her to the nearest hospital.
– When she wakes up later on in the hospital later on, she is shocked to find out that Naoki didn't take the test. She blames herself for this, and decides to move out of the house, not wanting to bother the Irie household anymore.
– Naoki follows her, and they talk in a park. He clarifies that he had time to take the exam but chose not to in the end, so she shouldn't blame herself. He tells her because of her, he started becoming nervous for exam results, and says it was an amazing experience. He also says that she may have messed up his life, but she also made it interesting and fun. Kotoko comes back to the Irie household.
– He later eats the congratulatory chocolate. Both of them gaze out of the window, wondering what the future will bring.
What did I think?
One of the best episodes in this series so far. No overly eccentric Kin-chan, less of Kotoko's annoying friends, and a lot of Naoki. Is that a just cause for a celebratory jig? HECK YES!
Like seriously, this episode we got to see a lot more of him. In the previous episodes, we were made to think that he's this cold-hearted guy who's just amazingly good in everything, and pushes everyone away just because he can. But here we see a different side to him – a side that is insecure, that is doubtful, that is unsure of the future. When he talked to Kotoko about why do we have to go to College studying some subjects we don't even like, it felt like listening to the me 4-5 years ago, when I was also unsure of what to do after high school. I mean it was inevitable that I would go to University, that much was given (there were really no other choices for me), but I questioned it a lot.
I just love that he's starting to become less mean, too. Kotoko gave him a head massager of all presents, and he wasn't that snarky about it! (I would have probably thrown a fit if I were him… I mean come on, this is your chance to thank me with a gift, and you'll give me a useless one?!) I promise I'm not that much of an ingrate in real life…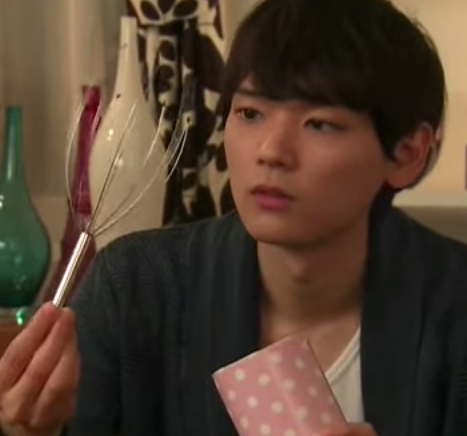 Moving on… Kotoko is still as cute as ever. She has a really nice smile, and once again, the actress acting her character is exemplary. It's become just a tad bit annoying how she's still all over him, though. Like seriously girl, you really don't get the hint, do you? Don't be super attached to him like that! Can't you see you make him uncomfortable?
But then again, when you have scenes like this, you just can't help but fangirl deep inside: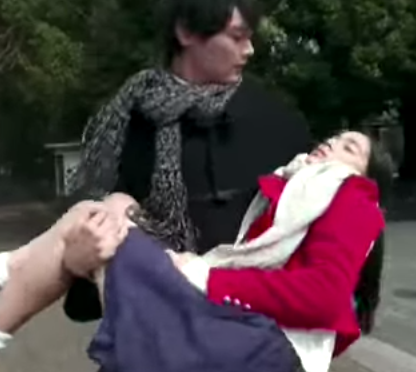 I swear when Kotoko fainted, and Naoki came running to her rescue, my heartstrings were pulled a little. Like wow, dude. That was seriously super sweet. I knew then and there that they just had to end up together, and you just knew then and there that Kotoko crawled her way into Naoki's heart, even if it's just a little bit, because the old Irie-kun wouldn't have done that. He wouldn't have bothered helping someone like her as it would have been bothersome, but noooo… people are screaming for help and he scoops her up immediately, asking for the hospital.
And when he said later on that Kotoko made his life more exciting? Serious "awww feels". All his life he never had to worry about anything, and for the first time, he felt nervous and excited about exam results, about certain things, and he relished those feelings because it felt like he was finally alive, that he's finally gone beyond the arduous and monotonous routine called "The Life of Naoki Irie."
In any case, by the end of the episode, I was like this: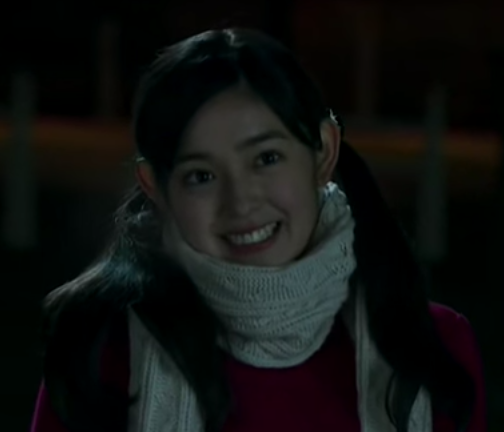 ---
What do the others think?
I continue to be surprised by how I feel about Mischievous Kiss, and Episode 4 was no exception. Like I observed in Episode 3, it continues to move away from the light and fluffy show it used to be, but that doesn't mean it is deprived of numerous hilarious and comedic moments. 
If I had one critique about this series as a whole, it would be that I wish we had a bit more of Naoki's perspective as well, and not just Kotoko's. It makes everything seem a bit one-sided, and I'm interested in seeing how Naoki's feelings change over time as well. 
Al in all though, this series continues to knock my socks off in the best possible way! It has humor, an enjoyable romance, and overall is just plain fun! I definitely wouldn't hesitate to recommend it to anyone!
This episode was weird for me. Up until now, I liked Kotoko and disliked Naoki, but that flipped. I really felt for Naoki during his college crisis because I went through something similar not too long ago. We actually got to see some character development outside if Mr. Cold Guy! Kotoko, on the other hand, got really annoying. Her persistence is kind of admirable, but at the same time, I kind of just want her to give up and go find someone who'll actually respect her. Considering how downright awful Naoki had been, I wonder what she see in him. And, no offense, but Kotoko should stop helping people because she seems to make it worse. . . Her hearts in the right place, but the girl is a walking disaster.  
I made no secret of my dislike for the third episode.
Yet somehow my love, and more. for the show has resurfaced with  vengeance. The affection I feel for Naoki now seems laughable and juvenile in comparison to the crush I have on him presently. Things did feel staged at scenes like when Kotoko finally falls, but when he picks her up? Man, I don't even care. Could it be a coincidence that the episode that has rejuvenated my love has at the most, three or four Kin scenes? Could be. The scenes were pretty damn serious, too, because he's done something he doesn't want Kotoko to know, and being a creepster seems to be more natural for him than an over-zealous and smitten friend. Kotoko annoyed me still with her harboring of guilt- he's just one of those super-noble, self-sacrificing people that steal from the story and infuriate me with their pity-parties. I was glad it was only short-lived.
The episode started out with college talks and beautiful kimonos, heralding an hour that was cute, fun and introspective, on the part of Naoki. It didn't end on similarly high a note, but I don't have any regrets now.
In this episode, Kotoko made a charm for Naoki. She wanted him to pass his qualifying exams. Even though Naoki pretends that the charm was a nuisance, I couldn't help but think that he really wanted it, because during the elevator mishap, he could have cut the string, and yet he tried to remove the charm from being stuck. In the end, it proved to be a good luck charm, even if it almost killed Naoki when he fell down the stairs.
Sometimes Kotoko's perseverance to always be by Naoki's side is endearing, but other times, she can be quite annoying. When she followed Naoki towards University of Tokyo to take an exam, she fainted because of appendicitis. But man, that lanky guy was able to carry Kotoko to the hospital.
When Naoki informed Kotoko that he's going to the same university as hers, I felt happy for Kotoko. I really feel like Naoki's cold-heartedness lessened, but I wished he smiled more, even if it's just a thin smile. 
Even though this episode was quite slow compared to the previous ones, I really enjoyed the ending, where both Naoki and Kotoko were looking out the window during Valentine's Day. 
This episode was so adorable, and Naoki was really endearing and less of an ass, which I totally loved. He was sweet and nice–my favorite side of him. Kotoko was hilarious as always. I just LOVED how Naoki's entire family was super worried when they found out he was sick. Everyone started spitting out suggestions for him to get better, because they wanted him to take the exam well for a better future. It was funny and realistic all at once.
Want to join us? Come on and join the fun!
Just click on the picture below to join!
See you next week for the fifth episode!!!
The following two tabs change content below.
Faye
A 21 years old Filipina who loves books, games, languages, and most especially, food. Secretly wishes to be an astronaut so she can explore the stars. Has a love-hate relationship with Philippine politics. To get in her good graces, offer her Foie Gras, Or shrimp. Or a JRPG. A YA sci-fi book works, too. You can follow her on twitter here:
@kawaiileena