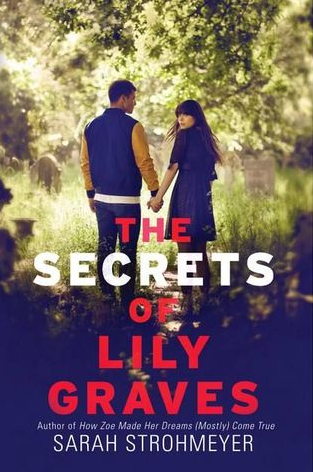 Genres: Young Adult, Mystery, Thriller
Release Date: May 13, 2014
Publisher: Balzer + Bray
Number of pages: 304
Source: ARC from Edelweiss
Check out on Goodreads
Buy on Amazon / The Book Depository
Growing up in a house of female morticians, Lily Graves knows all about buried secrets. She knows that perfect senior-class president Erin Donohue isn't what she seems. She knows why Erin's ex-boyfriend, hot football player Matt Houser, broke up with her. And she also knows that, even though she says she and Matt are just friends, there is something brewing between them—something Erin definitely did not like.

So when Erin is found dead the day after attacking Lily in a jealous rage, Lily's and Matt's safe little lives, and the lives of everyone in their town of Potsdam, begin to unravel. And their relationship—which grew from innocent after-school tutoring sessions to late-night clandestine rendezvous—makes them both suspects.

As her world crumbles around her, Lily must figure out the difference between truth and deception, genuine love and a web of lies. And she must do it quickly, before the killer claims another victim.
If you're going to pick up The Secrets of Lily Graves because you're looking for a kick-ass mystery-thriller read, it may be best to pack your bags and look elsewhere because this book is anything but brilliant. While it did not totally "suck" per se, there was nothing about it that really shone, either. All in all, it was an average read – with a bland and stupid heroine who kept emphasizing she was different, with a plotline that never felt had any proper build-up, and a romance that just never seemed to click with me.
The plot took off at a great start. We're in the cemetery with our heroine (who comes from a family of morticians), when suddenly, she is insulted and assaulted by Erin, the most popular and saintly girl in school, for supposedly stealing her boyfriend, Matt. The next day, Erin is found dead, and Lily and Matt get blamed for it (an easy scapegoat, as she is at the bottom of the high school food chain), but once it is hinted it may be a murder, our dead-loving heroine resolves to get to the bottom of this. It is at this point that perhaps things start tumbling down, little by little…
First of all, let's talk about Lily, the narrator of this book. Lily is the school outcast, mainly for her "weird" fashion taste and for her family business that revolves around burying the dead. We are reminded over and over again how different she was to the rest of them, but I actually found her voice annoyingly flat and dull. Like, I get it, she is sooo different compared to the others, but please don't just throw facts at me and rather show it to me instead. The narration felt too detached sometimes that I never found any depth to her character – like it was all dry bread without any butter. I wanted to get to know about her more, but there was really nothing that could make me connect to her at all, nothing to make me feel that she was a unique heroine, nothing that could make her personality shine… if there ever was one.
Like for example, it is heavily implied that she likes Matt, the jock who asked her to tutor him because he was failing History class, since the start of the novel. But why she likes him doesn't really get expounded, we're told she just does. This is probably the reason why the romance never clicked with me, because I didn't find their erm, "love", for each other convincing (but, but, but Matt likes her because she was different! Surely that counts? Errrrm, I would have bought it if she actually showed a personality, but I've yet to find it at this point).
Not to mention, her blind devotion to Matt was pretty annoying. You see, Matt was also suspected of possibly murdering Erin (how many times do we see domestic violence on the news? Too many, I bet). Any person with the right state of mind would be on their guard towards this person. Whether or not he really was the suspect, it's always wiser to practice some caution, but every time the heroine gets warned about him, she would instantly be on the defensive, denying any possibility that he was the killer.
I would never distance myself from Matt.
She says this after she is warned to stay away from a POSSIBLE murderer. Like, wow. She has no sense of self-preservation at all. She is super convinced he's not the killer, despite not having enough evidence to prove he's not. She even thought there was something wrong with her mother after she told her to exercise some caution! Reading her act like this was honestly quite disappointing. I know she doesn't have the perfect relationship with her "exercise-obsessed" mother, but thinking the mom was in the wrong for asking something reasonable was just pathetic. And seriously, it was reported later on that he lied to her about certain things, and she still insists on his innocence? Good lord… /smh
(She later is convinced a particular person is the killer for the simple fact she saw him interact with Erin once. And oh, because he spent time in jail. Go figure.)
Matt, on the other hand, was emotionally cheating on his girlfriend, Erin, and I didn't really appreciate it. I get it – you're unhappy with your relationship. You're more afraid that she'll hurt herself than you care for her because you do. Lily's not like the other pack of mean girls. But that's not an excuse at all to keep hanging out with the other girl and then not expect this to blow up to your fucking face. Other than that, he's really no better than the rest of the "Tragically Normals", a group comprised of one-dimensional mean kids who're good in everything and to teachers but downright difficult with everyone else. Mmmokay.
As for the mystery itself… I'm pretty mixed about it. At one point, I was on my toes regarding it, but at the same time, I had a foreboding feeling I knew who it was because one scene gave it away too quickly too early, and it was only a matter of how the book will deliver it. I thought it was handled kind of sloppily, though, because it seemed rush and anti-climatic, like there were no build-up before it (and there's also that uneasy feeling where you know an innocent man was arrested due to her stupidity…).
OVERALL…
* The heroine is stupid and bland, despite her insistence she's unique and different. In my opinion, she did not showcase any personality at all that would prove this claim, and her blind insistence on certain things took away any sort of enjoyment that I could have had. (If you're curious, they instead were spent raging about said stupidities.)
* The romance is unconvincing, and the secondary characters are all cardboard cut-outs of the same one-dimensional characters we see in other books.
* The ending feels rushed and anticlimactic. No proper build-up, leading to a climax that does not evoke any strong emotions. Booo.
Recommendation: Read it if you don't have anything else to read. It's quick, at least.
Rating Report
Plot
Characters
Writing
Pacing
Romance
Impact
Opening
Climax
Ending
Overall:
2.2
The following two tabs change content below.
Faye
A 21 years old Filipina who loves books, games, languages, and most especially, food. Secretly wishes to be an astronaut so she can explore the stars. Has a love-hate relationship with Philippine politics. To get in her good graces, offer her Foie Gras, Or shrimp. Or a JRPG. A YA sci-fi book works, too. You can follow her on twitter here:
@kawaiileena