Recaps, Rants, Raves is a new feature here at The Social Potato where we'll share a recap as well as a rant/rave of a few TV shows every Saturday! For now, we have the first season of The 100!
Disclaimer: Ahead are recaps, reactions, and rants about the CW show The 100. If you haven't watched the episode or the series, and you plan to do so, it is advised not to proceed due to inevitable spoilers. Otherwise, enjoy!
THE EPISODE IN A NUTSHELL:
Blood EVERYWHERE.
WHAT I THOUGHT:
Surprises are shown like every five minutes. So much love for this episode!
THE AMAZEBALLS
1.) THAT TWIST IN THE BEGINNING! I did NOT expect Murphy to come back, so when he showed up I was so, so shocked! Like he was gone for so long, and he is back…. and with him comes a disease…
2.) HOLY BLOOD AND GORE. The entire first half of the episode, the disease made everyone cough up blood or cry tears of blood–IT WAS DISGUSTING AND DISTURBING, but really cool, too. If you're not a fan of bloody scenes, you might have to keep your eyes closed. Seriously, I cussed so much while watching this because SHIT IT WAS GORE-Y.
3.) Raven. Loved Raven. I was a bit underwhelmed with her character in the past few episodes, but she is back in her kick-ass self! Making her snarky remarks, Raven's back in my good graces.
4.) Goodbye grounder. For now. I never really shipped Octavia and the grounder, only because it was a really weird relationship and it never clicked with me. Anyway, this might not be a good thing for a lot of you guys, but it is for me!
5.) WHAAAAAT THAT ENDING. The show's getting so much better in terms of opening and closing and episode. There is ALWAYS a twist in the end that'll leave us with an expression like this: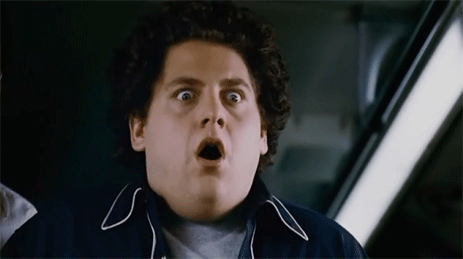 THE CRAPTASTIC
1.) You guys all realize that Finn would always be on this part of my recap, right? Anyway, at the beginning of the show, we're already introduced to him pining over Clarke. Sure, the asshole has a brain and he knows how to use it, but HE JUST GETS ON MY NERVES EVERY SINGLE SCENE. It could just be me, though.
2.) Fuck you, Jasper. I absolutely adored Jasper and Monty's friendship (as you can see in my episode 8 recap), and in this episode Jasper was such an ass to Monty. Just because he's now "popular" and all that, he's just going to act all high and mighty!?
OVERALL
It was an awesome episode–my favorite so far. Only, it lacked Bellamy/Clarke moments. More of those in the next episode, please?
Rating Report
Plot
Characters
Pacing
World-building
Romance
Impact
Opening
Climax
Ending
Overall:
4.1
The following two tabs change content below.
Aimee is a sixteen year old bookworm from the Phillipines! She reads any book that catches her attention, but she mostly reads YA. She's into graphic design, writing and sleeping. You can find her at
Deadly Darlings
,
The Book Geek
,
Goodreads
and on
Twitter
.