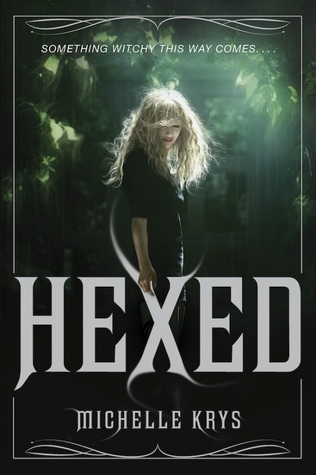 Genres: Young Adult, Paranormal, Romance
Release Date: June 10, 2014
Publishing House: Delacorte Press
Number of pages: 384
Source: ARC from Netgalley
Check out on GOODREADS
If high school is all about social status, Indigo Blackwood has it made. Sure, her quirky mom owns an occult shop, and a nerd just won't stop trying to be her friend, but Indie is a popular cheerleader with a football-star boyfriend and a social circle powerful enough to ruin everyone at school. Who wouldn't want to be her?

Then a guy dies right before her eyes. And the dusty old family Bible her mom is freakishly possessive of is stolen. But it's when a frustratingly sexy stranger named Bishop enters Indie's world that she learns her destiny involves a lot more than pom-poms and parties. If she doesn't get the Bible back, every witch on the planet will die. And that's seriously bad news for Indie, because according to Bishop, she's a witch too.

Suddenly forced into a centuries-old war between witches and sorcerers, Indie's about to uncover the many dark truths about her life—and a future unlike any she ever imagined on top of the cheer pyramid.
REVIEW
Fair warning: rant ahead!
At first glance, Hexed would seem like a totally creepy, thrilling read, right? It ended up being a funny book. No, not the good kind of funny. It was the kind of book that was really weird and made me laugh because of how absurd it was.
Reading Hexed was like watching the Vampire Academy movie–it seemed like a spoof that was trying a bit too hard to be funny that it ended up being quite tacky and lame. This bland humor made the characters sound a bit like kindergartners.
"They both raise their hands, palms up, making mock-shaped faces at each other."
See what I mean? That aside, I found the heroine (Indigo) to be very childish, wimpy and plain annoying. She was quite shallow as well. It could be because I'm very nitpicky, but Indigo thought a lot about other people, calling them "the little Chinese girl" or saying a guy "clearly never met a bottle of hair gel he didn't like."
"Exactly twelve minutes into practice, and I already wish I were dead."

…

"Exactly fourteen minutes into practice and I decide I'd rather Bianca were dead."
Is it just me, or does her humor sound kind of dry? It definitely reminded me of my 10 year old brother and his bad jokes that only he laughs at. And since Indigo's a witch (it's in the synopsis), you'd expect her to be kickin' some ass, right? Well, all Indigo did was watch from the sidelines as her not-so-boyfriend fought her battles for her. Definitely not badass.
There are more specific instances of why Indigo's character was unlikable for me:
For one, when she saw a dead guy on the street holding a piece of paper, she took it! Girl, I'm pretty sure it's against the law to steal useful case evidences.
It was part of their cheer to lift their skirts and show their asses to the world and she was fine with it. Um, okay.
Indigo felt that everything was about her. When Bishop (the not-so-boyfriend) stated that the good witches didn't care about her mother, she even gasped. Not everyone gives a shit about your problems.
She had that in denial stage where she wouldn't believe anyone who told her that Bishop cared about her.
I didn't like most of the other characters, either. The only character who I did like was Jezebel, Bishop's ex. She was pretty badass and was pretty honest, even about the bad things. Most of them had so much potential to be amazing, kick-ass characters, but they all had this somewhat childish voices. They sounded like characters from a middle grade novel, saying things like, "The Chinese frickin' Theatre?" That sounds a lot like me, and I'm fourteen.
The plot was okay–some things were explained well, others weren't. There were twists that did surprise me, but the characters' idiocy constantly got in the way of what could've been a really engaging story for me. The writing didn't help much, either. For some reason I wasn't able to connect with the story as much as I would've wanted to.
To be blunt, Hexed is what I'd call a common YA novel–wimpy heroine, "bad boy" who saves the girl, an asshat best friend, an asshat ex-boyfriend and a load of drama covered up by some of action and fantasy.
Rating Report
Plot
Characters
Writing
Pacing
World-building
Romance
Impact
Overall:
1.4
The following two tabs change content below.
Aimee is a sixteen year old bookworm from the Phillipines! She reads any book that catches her attention, but she mostly reads YA. She's into graphic design, writing and sleeping. You can find her at
Deadly Darlings
,
The Book Geek
,
Goodreads
and on
Twitter
.