Every Monday, the people here at The Social Potato will be doing a recap of one episode of Mischievous Kiss: Love in Tokyo! Right now, we're doing episode 7!
Basically, what happened was this:
– Kotoko's father tells the news of their moving to the Irie parents. Mommy Irie does not take it kindly. Yuki is very happy, though. Stupid brat.
– Kotoko once again promises to forget about Irie, and that she has given up on him. Weellll….
– Tennis practice again! Unfortunately, it means just even more exercises for Kotoko. Eventually, they finish the hard training, and they get to the court, only to pick up tennis balls. Welp.
– Yuko comes again to antagonize our sweet Kotoko. Seriously, go away. Irie comes, of course, and acts like a jerk.
– In an attempt to beat Naoki, Sudo sets up a double match: Sudo and Matsumoto versus Irie and Aihara. Obviously, the latter loses. Another match is set for next week with the same teams. Since Kotoko can't practice due to stupid club rules, Naoki prepares her through other unconventional means.
– Kin-chan visits a tired Kotoko and gives her food to eat and asks her the important question: are you trying so hard just for a boy? They share a heartfelt conversation.
– Naoki's mother visits campus, who becomes… overly ecstatic… when she finds out her ship has kissed already. She then decides to force take back Kotoko back to her home.
– The day of the match has come! Kotoko shows off her new skills, wowing everyone. However, she pushes herself too far and ends up getting cramps. She gets carried by Naoki <3
What did I think?
---
First of all, Mommy Irie can be cute sometimes, but at the beginning of this episode she was seriously annoying. I get that you're sad that Kotoko is leaving, and that's akin to having your own daughter leaving, too, but why are you saying that you'll convince Naoki to love her? Why can't you let him decide that? I'm sure parents know "best" to a certain extent", but wouldn't it be sweeter if your son and daughter will make room for a special someone on their own? Yeah, I thought so.
In any case, even when crying, she's so beautiful: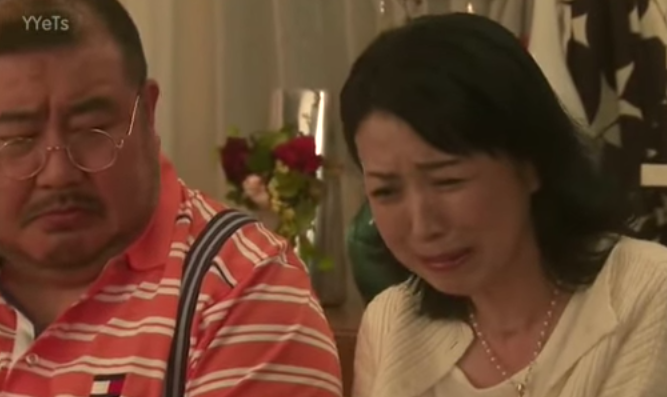 Kotoko's also cute when she cries: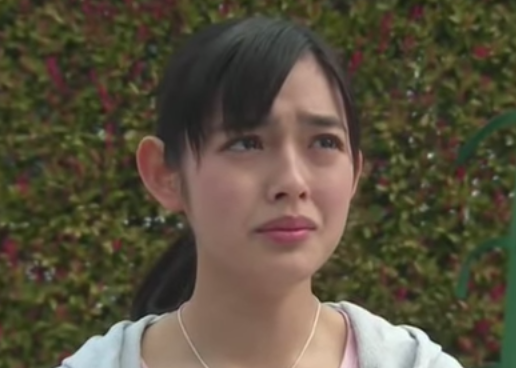 In any case, Kotoko's dependency on Irie is annoying. I'm all for the power of love and all that, but girl, there's a problem if you label your life as either two things: "a life WITH Irie-kun" and "a life WITHOUT Irie-kun". I've been hoping that she snap out of it because it gets old really quickly how easily she revolves her life around that cold genius. Later on, she did say that she will give up on Naoki, but knowing her, and knowing how she said this before, too, she'll be back to loving and clinging on to him later.
I like how both Naoki (and the Irie family) and Kotoko are feeling the void now that they are living away from each other. You can really see how much each other's presences has impacted the other party. There's no one greeting Kotoko when she comes home, and Mommy Irie is depressed so now the three guys in the Irie household have to do the chores… lol. What a dilemma!
And of course, Yuko has to come again with the amazingly predictable dialogue of how Kotoko should just give up already. I really don't understand her place here. I mean, yeah, she's to serve as some fleeting love rival, but her personality is just so bland somehow, especially for someone seemingly smart like Naoki.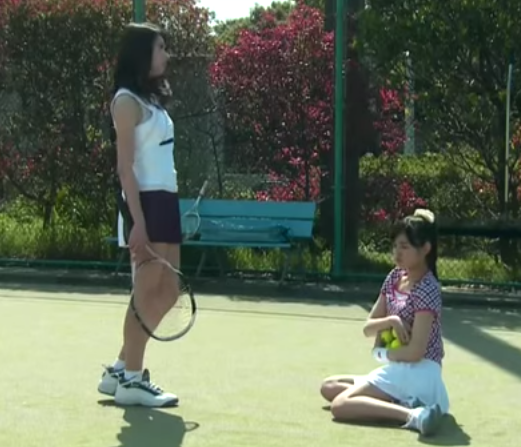 And seriously, Naoki? Is there any need to be a jerk? As much as I find him cute, I'm starting to hate his character. Such coldness can only run for a short time, you know! And it really sucks that Kotoko is going all lovey over him again. Come on, girl. Give him a bit of the cold shoulder. Make him miss you. Make him realize what he lost, even for a little while! You're getting hurt physically in a game that isn't even your battle and all you think about is not making him mad. That's… really bizarre.
Despite that, though, I liked the time spent by Naoki and Kotoko together as they try to practice for their match. I love how Naoki pushes her so hard, and Kotoko gives her best anyway (hopefully for her, and not for Naoki Irie).
I liked Kin-chan a lot here. He's starting to ask Kotoko the questions she needs to answer herself. Are you trying so hard, pushing yourself so hard, just for a boy? Just for Naoki? I think he misunderstood something there, but in any case, I like his intentions, and I liked the way he looked. I kinda have to hand it to him… the girl he likes likes someone else, but he's still optimistic he'll get her in the end. Wish Kotoko wouldstop leading him on, though.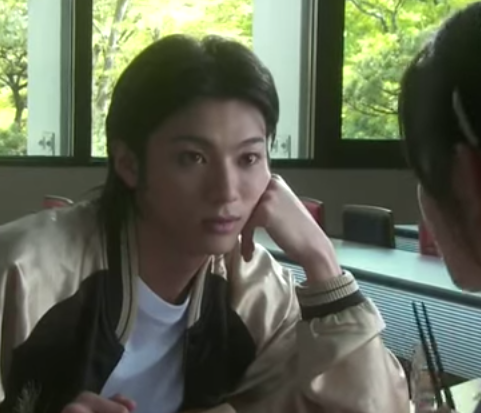 In any case, I loved how Kotoko took her training seriously. She's grown a lot, and she even got to kick ass at the Tennis match. Unfortunately, she just had to get cramps </3 I would've wanted that Sudo guy (who's annoyingly annoying) to get a dose of his own medicine (okay, Yuko, too). Oh, well, at least it go us these scenes: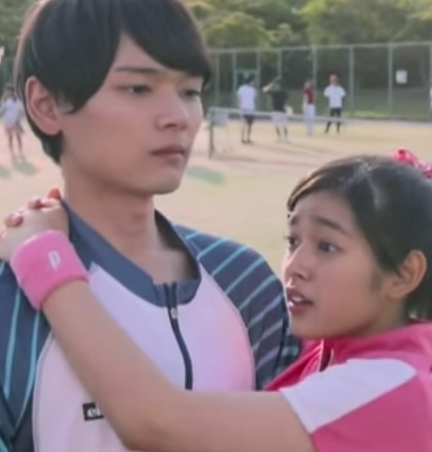 What do the others think?
---
Episode 7 consisted of – probably – the warmest side of Naoki we've seen so far, but he's still far from coming out of his shell with Kotoko. But still, for Naoki, offering to train Kotoko in tennis is the closest we've seen to him being kind to her.
I must admit that the ending of the episode really confused me. It ended really abruptly, and there wasn't really an explanation. I'm interested in seeing how this is resolved in the next episode, but at the time I was watching I was really confused.
Nonetheless, another great episode! Can't wait for Episode 8!
I might be singing the same tune since the last episode, but here goes: I liked it! So much! That I even! Liked! The title song! When it played! later on! in the episode! Without! The fairytale-ish! Opening Video and red shoes and shiny people.I think Kin might have been replaced by Mama Irie on my list of characters I'd like to throttle. I admire her fucking gumption but man, she should respect others' wishes, in particular Kotoko's father. *sigh* I'm just afraid to find out what she actually did. Get a life, woman.
Speaking of Kin, once AGAIN, I like him. It's a goddamn see-saw with him but he was just soooo nice. Such a sweetheart.
In other news, Naoki is an awesome trainer. But even so, I think him turning Kotoko into a tornado on the court in one week was too much. Yet he says such sweet words in this episode that I can all but forgive him- despite that moment when he cries, "Ooh I'm always so perfect, woe be me!"
Anyways, here's other stuff I found out in the episode: Kotoko and Naoki are especially fond of innuendos.
Naoki: Open your eyes and look at the balls.
Naoki: Move your body toward where the ball is coming from.
Kotoko chants: Open my eyes. Look at the balls.
Words to live by, people.
As it so happens, Miss Other Girl still exists- only to make one snide remark per episode and flip her hair. Whatever. I'm surely supposed to hate her but I don't give a fuck because she's so obviously not characterized.
To end with, Kotoko asks God if he's exasperated by her inability to decide on or forgo Naoki. I don't give two craps about God but I sure as hell am. However, I still loved this episode. :)
Kotoko and her father finally moved out of the Irie's house. I think this is the best decision for them. It will make Naoki realize what he has lost.
Kin is so thoughtful. I wish Kotoko would give him a chance.
Then a new girl comes along. Some girls can be so bitchy! Ugh. Yuko!
I really love the part when Kotoko sprained her ankle. Aww…moment!
I found this episode (7) to be kind of a filler, but it was hilarious and pretty light. Sudo's totally freaky, but in a humorous way. Most of the time. I really liked Kotoko's determination to succeed at tennis and how she doesn't like to fail other people (in this case, Naoki). And that ending–*swoons*.
I definitely noticed the chance in Kotoko. I mean have you seen her clothes? They look so cute, and yet mature. Fitting for her age and state now that she's in college. :D
Want to join us? Come on and join the fun!
Just click on the picture below to join!
See you next week for the eighth episode!!!
The following two tabs change content below.
Faye
A 21 years old Filipina who loves books, games, languages, and most especially, food. Secretly wishes to be an astronaut so she can explore the stars. Has a love-hate relationship with Philippine politics. To get in her good graces, offer her Foie Gras, Or shrimp. Or a JRPG. A YA sci-fi book works, too. You can follow her on twitter here:
@kawaiileena