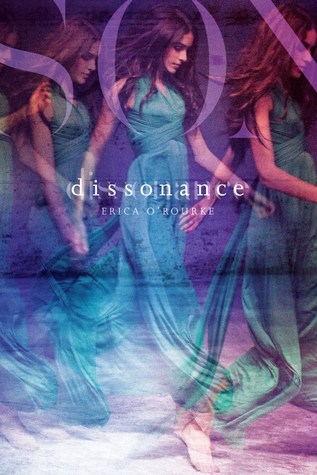 Genres: Young Adult, Science Fiction, Romance
Release Date: July 22nd 2014
Publishing House: Simon & Schuster Books for Young Readers
Number of pages: 496
Source: ARC from Edelweiss
Check out on GOODREADS
Delancy Sullivan has always known there's more to reality than what people see. Every time someone makes a choice, a new, parallel world branches off from the existing one. Eating breakfast or skipping it, turning left instead of right, sneaking out instead of staying in bed ~ all of these choices create an alternate universe in which an echo self takes the road not travelled and makes the opposite decision. As a Walker, someone who can navigate between these worlds, Del's job is to keep all of the dimensions in harmony.

Normally, Del can hear the dissonant frequency that each world emits as clear as a bell. But when a training session in an off-key world goes horribly wrong, she is forbidden from Walking by the Council. But Del's not big on following the rules and she secretly starts to investigate these other worlds. Something strange is connecting them and it's not just her random encounters with echo versions of the guy she likes, Simon Lane.

But Del's decisions have unimaginable consequences and, as she begins to fall for the Echo Simons in each world, she draws closer to a truth that the Council of Walkers is trying to hide ~ a secret that threatens the fate of the entire multiverse.
***
review
So, it's been a while since I read this one. I actually read it last year, since I was excited when I got the eARC and just dived right into it without considering the fact that the publish date was nine months later–so please do forgive me if I make a few fact-related errors in my review.
Dissonance had a very powerful concept. I was so intrigued by the world Erica created and wanted to keep learning about it. Clearly a lot of research went into the world and its technicalities.
That being said, the world was interesting and all, but there were a lot of technical terms that could be confusing for some. These terms are explained, but the explanations used deep words and messy thought constructions that I had trouble really getting a good grasp on what was what in Delancy's world. Why yes, there were a ton of info-dumps concerning all the terminologies related to the parallel universes.
Now, I wasn't able to connect with any of the characters. It could have been the only-okay writing, but I didn't feel what the characters felt, nor did I want to. I was kind of just… detached to all the characters. I appreciated Del's kind of confident attitude and how she has this rebellious teen thing going on. We just didn't "click", sadly. And there were times when her confidence exploded and turned into arrogance.
Simon was pretty boring. I really didn't care for him, or the insta-love he and Del shared. This is one of those books where the romance kind of ruins its potential. Well, not really ruins, per se. It just lessened the book's credibility in my eyes. I think I would have liked the novel a bit more without the romance.
Another thing I had issues with was how the events leading up to Simon & Del's relationship were all so convenient and rushed. Everywhere Del would go, Simon would be there. This is one of the things that I notice a lot in YA romances that make me roll my eyes the most. Doesn't it get on your nerves?
Let's not forget that this book is humongous. At almost 500 pages, I'll admit that I did skip some paragraphs while reading. A lot of scenes felt like fillers and could have been cut out, really. This story could've been squeezed into around 400 pages or so. I would've been more into it if I didn't keep thinking that I still had a lot more pages with a lot more info dumps to go, thank you very much.
Rating Report
Plot
Characters
Writing
Pacing
World-building
Romance
Impact
Overall:
2.2
The following two tabs change content below.
Aimee is a sixteen year old bookworm from the Phillipines! She reads any book that catches her attention, but she mostly reads YA. She's into graphic design, writing and sleeping. You can find her at
Deadly Darlings
,
The Book Geek
,
Goodreads
and on
Twitter
.