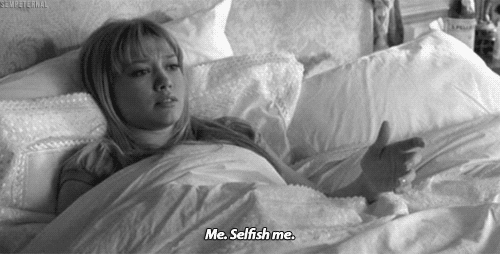 I'm sure the post-apocalyptic or dystopic junkies can very well relate with me with regards to this subject. Imagine it's the end of the world. The sky is painted dark red, the color of war tainting the horizon, and our MC and his band of friends are down to their very last resources: a loaf of bread, a couple of beef jerkies, and a 1.5 liter of warm soda. It's enough to last them one more week before they need to go scavenging again, and the houses have been found to be emptier and emptier by the day. As they walk along the roads, they see a dying man curled up on the street, on the brink of emminent death. The MC has two options:
1.) Don't spare a glance to the dying man. Keep your hard-earned resources to yourself; or
2.) Give him your loaf of bread and help him live another day.
Now, if you ask me what I would do in such a situation, it's actually hard to say. When it's the end of the world as we know it, it means that social structure has fallen and you're on your own. There's no law to protect you, no farmer or fisherman to provide you your dose of protein, and it's likely there's no authority whatsoever to tell you what to do. In short: it's a race of survival. 
In the books I read, I occasionally come upon a scenario in which the character has the choice to share what he has to the less fortunate. To be compassionate, or to be selfish? To be kind, or to be more practical? Believe it or not, it's actually not quite simple, at least to me.
Would I have shared?
Yes.
And no.
I'm weird like that. I'm actually pretty generous in nature, oftentimes treating my buddies to dinner, but that's only when I know I can spare resources for you and still be contented with what I have left. If it were in an entirely different situation, say, an APOCALYPSE, which is not something to be taken lightly mind you, I wouldn't be as generous as I would have been. Unless you're a friend or family, I won't give my supplies out of the kindness of my heart especially when I'm not certain I'll be able to last with it in the next few days. I understand the concept of giving and being compassionate and how it's more human, but for me, that works if your resources are in abundance, and not in my expense.
THIS DOES NOT MEAN I AM A DOUCHEBAG, HOWEVER. I love sharing, I love giving my friends gifts, but it's a seriously different scenario when it's the end of the world. It's when everyone is out there for himself. It's that time when the people you trust may turn into a snak in order to last even longer. It's when survival comes first before anything else.
So what is your take on it? What do you feel when an MC is too kind in a post-apocalyptic situation? What would you have done?
The following two tabs change content below.
Faye
A 21 years old Filipina who loves books, games, languages, and most especially, food. Secretly wishes to be an astronaut so she can explore the stars. Has a love-hate relationship with Philippine politics. To get in her good graces, offer her Foie Gras, Or shrimp. Or a JRPG. A YA sci-fi book works, too. You can follow her on twitter here:
@kawaiileena