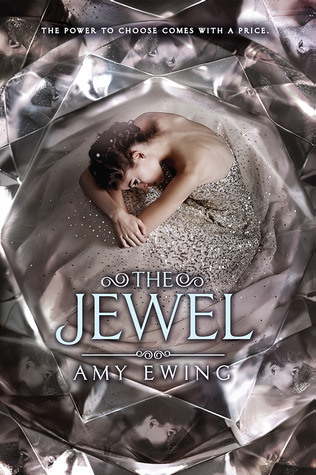 Genres: Young Adult, Fantasy, Romance, Dystopia
Release Date:  September 1st 2014
Publisher: HarperTeen
Check out on GOODREADS
The Jewel means wealth. The Jewel means beauty. The Jewel means royalty. But for girls like Violet, the Jewel means servitude. Not just any kind of servitude. Violet, born and raised in the Marsh, has been trained as a surrogate for the royalty—because in the Jewel the only thing more important than opulence is offspring.

Purchased at the surrogacy auction by the Duchess of the Lake and greeted with a slap to the face, Violet (now known only as #197) quickly learns of the brutal truths that lie beneath the Jewel's glittering facade: the cruelty, backstabbing, and hidden violence that have become the royal way of life.

Violet must accept the ugly realities of her existence… and try to stay alive. But then a forbidden romance erupts between Violet and a handsome gentleman hired as a companion to the Duchess's petulant niece. Though his presence makes life in the Jewel a bit brighter, the consequences of their illicit relationship will cost them both more than they bargained for.
review
Another example of wasted potential, The Jewel could have been the next big thing for many other readers–if not for that shitty, awful romance. That's pretty bad, considering I almost NEVER say something is awful–I call a lot of things shitty, but awful. That is a hundred times worse than shitty in the Language of Aimee.
Oh, and noticed how I said "many other readers"? Yes, because even without said shitty, awful romance, this book is just not for me. It was a bit similar to The Hunger Games (they had rings around the city and the larger rings are for the poorer sectors) and The Selection (the atmosphere and writing), but there were really just some stupid things I couldn't understand about this one. *grabs notes* Let's get started, friends.
"I have absolutely no idea what it must be like to be pregnant."
What. The. Hell? Weren't these girls brought up to be surrogates in the future? Why does it seem like Violet seem to have zero idea about pregnancy? Throughout the novel, she was basically ignorant and constantly confused–just SNAP OUT OF IT AND GET A GRIP ON YOURSELF, OKAY?
This novel was also had a billion cliche scenes/lines. I mean, how many times have you read about the girl "in the mirror" as she "transformed"? That's seriously one of the most annoying bookish scenes ever, and I can't help but cringe every time I read about those.
And drama. Drama llamas everywhere, people! The Jewel could totally be turned into the next High School Musical. Really, the characters have already practiced! See:
Her voice is sweet and she sings a traditional Marsh-song, one we all know.

[…]

Two other girls join in.
And here we go: the romance. Excuse me while I go laugh hysterically, folks! Because this romance gave me a huge migraine. I feel like vomiting just thinking about it. But still, I present to you THE STAGES OF THE ROMANCE IN THE JEWEL! (Take note that the novel is only about 350 pages long, so these are actually really close to each other.)
They meet. They lock eyes. What can Violet say about Ash's eyes? "[T]hey look at me in a way that makes me feel hollow and strangely buzzy." (51% in the eARC)
When Violet leaves Ash's room, she thinks of kissing him. (53.8% in the eARC)
A few hours after they first met, when they meet again, Violet says, "My whole body feels like it's blushing." (54.3% in the eARC)
First kiss. (70.7% in the eARC)
Second kiss. (73.9% in the eARC)
Admission of love. (85.7% in the eARC)
They get married, ride off into the sunset and have babies. (Hopefully NEVER.)
Okay, I should get over that. Moving on!
This book also had some fantasy elements mixed in. I did appreciate that, since fantasy is my favorite genre, but I still have many unanswered questions in my mind about the magic and sorcery in this book. Well, I had questions about ALMOST EVERYTHING, actually. Why were there surrogates? How come only magic-wielding girls can be surrogates? I also felt like the fantasy aspect of the novel was just forced into it–it didn't really seem to fit with the mood of the story, but maybe that's just me.
One last thing: STEREOTYPING. Women were portrayed as either too helpless and idiotic (Violet) or vicious and bitchy (basically all of the women who bought surrogates). Men were portrayed as handsome and always drunk (Garnet–the only character I could tolerate) or kind gentlemen (Ash–*pukes*). Where are the normal, average, REALISTIC people?
The only positive thing I can say about the book is that I did enjoy Ewing's writing. It was easy to read and I just flew through the pages without much reading-related problems.
Well, this review turned out a lot longer than I planned. Anyway, I'm off to bleach my brain after re-thinking about this novel.
Rating Report
Plot
Characters
Writing
Pacing
World-building
Romance
Impact
Overall:
1.4
The following two tabs change content below.
Aimee is a sixteen year old bookworm from the Phillipines! She reads any book that catches her attention, but she mostly reads YA. She's into graphic design, writing and sleeping. You can find her at
Deadly Darlings
,
The Book Geek
,
Goodreads
and on
Twitter
.