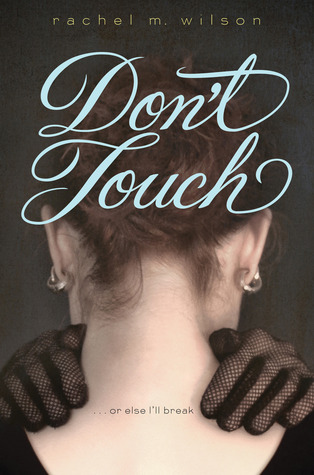 Genres: Young Adult, Contemporary, Romance, Mental Illness
Release Date:  September 2nd 2014
Publisher: HarperTeen
Check out on GOODREADS
Step on a crack, break your mother's back. Touch another person's skin, and Dad's gone for good.

Caddie can't stop thinking that if she keeps from touching another person's skin, her parents might get back together… which is why she wears full-length gloves to school and covers every inch of her skin.

It seems harmless at first, but Caddie's obsession soon threatens her ambitions as an actress. She desperately wants to play Ophelia in her school's production of Hamlet. But that would mean touching Peter, who's auditioning for the title role—and kissing him. Part of Caddie would love nothing more than to kiss Peter—but the other part isn't sure she's brave enough to let herself fall.

Perfect for fans of Laurie Halse Anderson, this debut novel from Rachel M. Wilson is a moving story of a talented girl who's fighting an increasingly severe anxiety disorder, and the friends and family who stand by her.
review
Reading this book felt like walking on glass. Any wrong move could make the glass shatter–any little thing can make me completely love or hate the book. Until this moment of writing this review, I could suddenly realize little things and lower or raise my rating. This book's a fragile read for me, if you can call it that.
One positive thing about the book was the theatrical aspect. I loved all the theater-talk and scenes related to the characters' roles in their school play, and all the those things. I myself want to try out theater some day (in fact I plan to join our drama club next year), so I really enjoyed these scenes from the book.
Another thing I liked was the realistic involvement of parents in the novel. Caddie's parents were practically oblivious to her situation, since they were caught up in their own problems. Both also had ambitions they wanted to fulfill, hence their short attention span. Caddie also had a little brother who, at first, was kind of cold to her but ended up being really supportive. He reminds me of my own brother.
Each character also had a distinct personality, although it's sad to say that I was more invested in the minor characters' stories than in the main characters'. Caddie and Peter weren't bad characters, but I guess the elegant writing made me feel uninterested in them. There was also the problem that I don't know what it feels like to have OCD, so sometimes Caddie was creeping me out.
Caddie had a great group of friends who I just loved. They were there for her when she needed them, but they also got into fights like real friends would. They also had a great passion for acting, which I wish more people in the world had as well. Olivia was especially endearing.
The romance was okay. Sometimes I just wanted Caddie and Peter to just KISS ALREADY, and sometimes I wanted to tear my eyeballs out since I was getting annoyed and/or frustrated with how hot-and-cold the two of them were. But overall, I liked Peter as an individual. He made decisions for himself and was a really good friend to Caddie.
Overall, Don't Touch might appeal to fans of Say What You Will by Cammie McGovern (which I enjoyed), or even Eleanor & Park by Rainbow Rowell (which I thought was fine). It was a heavy read made lighter by the adorable side characters and very friendly love interest.
Rating Report
Plot
Characters
Writing
Pacing
Romance
Impact
Overall:
2.9
The following two tabs change content below.
Aimee is a sixteen year old bookworm from the Phillipines! She reads any book that catches her attention, but she mostly reads YA. She's into graphic design, writing and sleeping. You can find her at
Deadly Darlings
,
The Book Geek
,
Goodreads
and on
Twitter
.