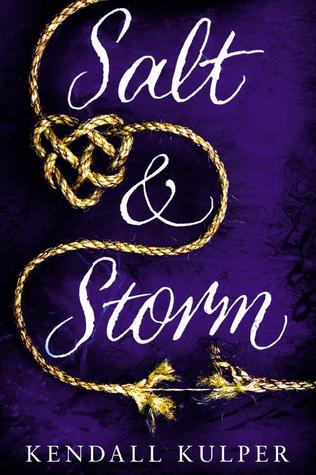 Genres: Young Adult, Fantasy, Paranormal, Romance
Release Date:  September 23, 2014
Publisher: Little, Brown Books for Young Readers
Check out on GOODREADS
A sweeping historical romance about a witch who foresees her own murder–and the one boy who can help change her future.

Sixteen-year-old Avery Roe wants only to take her rightful place as the witch of Prince Island, making the charms that keep the island's whalers safe at sea, but her mother has forced her into a magic-free world of proper manners and respectability. When Avery dreams she's to be murdered, she knows time is running out to unlock her magic and save herself.

Avery finds an unexpected ally in a tattooed harpoon boy named Tane–a sailor with magic of his own, who moves Avery in ways she never expected. Becoming a witch might stop her murder and save her island from ruin, but Avery discovers her magic requires a sacrifice she never prepared for.
review
I will be killed. I will be murdered.
I have never been wrong before.
Being a huge fan of historical fantasy books, it was no surprise that I ended up being sucked into Salt & Storm. With its rich setting, interesting historical backgrounds and powerful cast of characters, I wanted nothing else but to keep flipping the pages.
The first thing that drew me into the book was the beautiful setting. I love books, movies, and everything else that are set in some sort of small village/island with its own unique culture. At times, I did feel as if I were in the island with Avery, talking to all the sailors about how their whaling businesses were going. Initially, I didn't know anything about the whaling industry, but this book had incorporated well enough into the story that I was never confused.
We also had various explanations and tales of history–the history of the island and the history of the witches' clan. I was completely invested in both. Normally, I would be bored out of my mind reading about how things started out, but each witch in the clan had a different story to tell, and the island had a lot of cool (I'm not sure if that's the right adjective for it) happenings that I wanted to know about.
When it comes to characters, I'd have to say that I enjoyed reading about the side characters (Tommy and Avery's family) a lot more than I did with the main characters (Avery and Tane). I mean, Avery did have a tough situation going on (being a strong, determined witch and all), and while it was definitely intriguing, it wasn't engaging. At the back of my mind, I was wondering things like, How would Avery's grandmother do this? or I wonder what Tommy's doing now…
Another complaint I have has to do with the romance. I've been told to expect a slow-burn romance, but I didn't feel that. Sure, they've been talking a few days (weeks?) before all the romance-y and gross stuff, but they didn't have much interaction in those times that I felt like they've only known each other for a few minutes. Tane's a good guy and all, but I just couldn't bring myself to care about this romance.
On the plus side, it wasn't only the romantic kind of relationship that was explored here. Avery had friends (er… well…), a grandmother who she really admired and respected, and a mother who she thought didn't really love her. Each person in Avery's life made some good and bad choices, and I'd like to tell you that these choices are realistic and easy to accept.
Kulper also isn't afraid to take risks. I've read tons of books where it seems like I've guessed everything in the first few pages, but that totally wasn't the case with Salt & Storm. Whenever Avery was confused and unaware, I was also confused and unaware–which is a good thing, since the twists were more surprising for me. Trust me, there are quite a few things you wouldn't have thought would happen until they just came right at your face.
Overall, I would definitely recommend Salt & Storm to fans looking for an engaging story about witches, history, romance, friendship and family.
Rating Report
Plot
Characters
Writing
Pacing
World-building
Romance
Impact
Opening
Climax
Ending
Overall:
3.6
The following two tabs change content below.
Aimee is a sixteen year old bookworm from the Phillipines! She reads any book that catches her attention, but she mostly reads YA. She's into graphic design, writing and sleeping. You can find her at
Deadly Darlings
,
The Book Geek
,
Goodreads
and on
Twitter
.