Recaps, Rants, Raves is a sporadic feature here at The Social Potato where we'll share our thoughts of a TV show every Saturday! For now, we have the second season of The 100!
Disclaimer: Ahead are recaps, reactions, and rants about the CW show The 100. If you haven't watched the episode or the series, and you plan to do so, it is advised not to proceed due to inevitable spoilers. Otherwise, enjoy!
I'm so behind on this show and my recaps, and for that I am deeply sorry. However, I was able to find time today, and lookie what we have here… episode 5 was a bloody rollercoaster of emotions. I went from squealing my lungs out (BELLARKE MOMENT) to feeling heavy when Finn did what he did in the end. To be honest, as much as I hate to admit it, Finn was the "character du jour" in this episode, because even though I find him unlikeable like you wouldn't believe, his complexity here added a lot of depth to this show. I still don't like him, but his development (or should we say… devolution?) of his persona seriously just sends chills down my spine. Only goes to show that this series is simply more than just any teen show. I really applaud how it goes beyond and actually tackles morality, PTSD effects, vengeance, among many other things.
The Episode in a Nutshell:
As much as I squealed to my heart's delight at Bellamy and Clarke's first meeting since the season started, Finn stole the spotlight. You can really tell his sanity is slowly ebbing away. I hated what happened in the end, but I definitely like how it actually adds so much depth to this show.
My Thoughts:
1.) So much Clarke goodness! PLUS BELLARKE MOMENT!!! RAISE THE SAILS, ME GOOD LADS! When Clarke was mistaken as a Grounder and captured by the enforcers of the camp, I was a bit worried that it may lead to a lot of unnecessary troubles that could have been prevented IF THE SOLDIERS WEREN'T SUCH EAGER BEAVERS (but then again, they were simply doing their jobs. With so much going on and the Grounders on the loose, they needed to be extra vigilant). Thankfully, it didn't, and it even led to a beautiful mother/daughter moment between her and Abby, and so much badassery when Clarke stood her ground when her mother tried to be a protective hen (once again, I don't blame her for feeling so… she thought she had died and then got captured and they've been away from each other for a long time…) and didn't want her to go after Finn and Murphy who she encouraged to rescue Clark who may now make matters worse if they do things they would later regret (but here's where I throw the trouble, Mother Hen… you can't just abandon them like that!
Just like what Bellamy said:
"You're sorry… Finn and Murphy are out there looking for your daughter with guns you gave us. And now she's home, you're just going to abandon them?"
You, go, Bellamy!
Speaking of Bellamy, can I just say I had to freaking pause the episode when he appeared in the camp with Octavia in tow and Clarke was there at the same time? DUDES AND DUDETTES, I FREAKING GIGGLED AND SQUEALED AND TURNED MY OFFICE CHAIR AROUND AND AROUND IN GLEE. This is the first time I've actually joined a fandom seriously. If there's one person raising the sails of this ship very, very high, that would be me, folks (oh, okay, and countless others, too. HAPPY?!) That was seriously so sweet. I'm going to embed this picture in my brain for the rest of my life.
2.) I… I like Murply?!? PART 2 Murphy has redeemed himself even more here. First season, we saw him as this jackass who would torture and humiliate kids for no reason, but between him and Finn, he has become the voice of reason between the two. I liked how when Finn was about to go on his rage-y episodes, he was really trying to calm him down, he was trying to talk some sense into him, a behavior that was a far cry from what he was back then. I'm not complaining; I like him so much better this way. It's like… he and Finn traded places with each other. Finn was the "voice of reason" among them, but now he was the Murphy of Season 1.
Hmmm.
I actually just realized that while writing this. Interesting.
And we'll get to Finn in a second.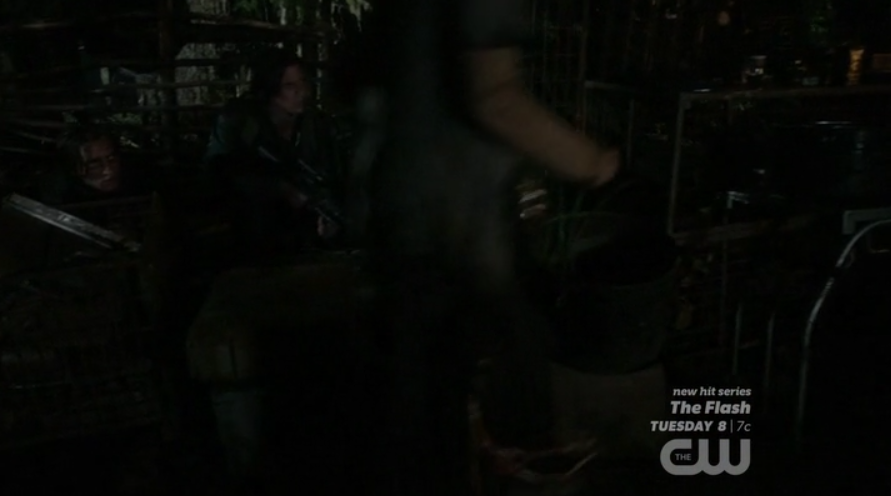 3.) I love that even with less exposure, Raven still has a strong presence. Raven isn't in the field anymore due to her leg, but that doesn't stop her from being such an awesome, kickass girl. She tries hard to help by being the logistics, and by standing up to Abby when Abby was being, once again, a rather overprotective Mother Hen.
Seriously, the girls in this show are so strong-willed. It really sends a positive message to all the girls out there who are watching this show.
4.) I knew something was fishy when that "leak" happened. Clarke already saw what was happening in the medical room way before the doctor said to do the operation they did to Jasper, so it really was odd when Maya suddenly gets contaminated with radiation and they had to force Jasper to exchange and circulate blood with her by using his affection for her. From the start, I knew it was manipulated somehow to prove a point, and by the end, I saw I was right. It really felt like it was a sabotage somehow by some sketchy people to prove a point to Old Man Wallace, which makes me now doubt whether or not he may actually be "cleaner" than he looks. It seemed like he was genuinely confused and it seemed like he genuinely didn't want the delinquent kids to be used whatsoever.
Okay, show, now you're making my head spin. But I like the twists and turns. I hate it when shit becomes too predictable.
5.) Finn, I hate what you become, but HOLY SHIT, CHARACTER COMPLEXITY. 
I've told this over and over again in my previous recaps, but Finn really had a personality change when season 2 started. He suddenly became ferocious and merciless, killing people with no remorse when he used to be the innocent guy who wouldn't slap a ladybug away. I hated this change because it felt too convenient, too sudden, with no justification whatsoever, until… until Bellamy told Clarke how they also observed the changes and how the war and what happened to their other friends may have caused this change…
And I do admit nodding my head and thinking, "Actually… that could be the reason…" especially since it happens to many others, too, when they witness something violent or extreme like war and death. And it made me think a lot… that, perhaps, this change in Finn actually adds a lot of depth to this show, especially since it tackles such a sensitive issue like PTSD. I just hope that down the line they will properly discuss or handle this because it can go wrong easily. I'm just saying that I hate the change, but I see why he changed, and I see its importance in the show.
Plus, come on, character complexity? Who doesn't want that? I don't want one-dimensional characters here, yo!
I really do feel sorry for the people he killed by the end of this episode, though. :( It didn't have to end that way, but somehow, it did. Finn found himself killing them, couldn't find it to stop himself. Murphy tried, and I loved that he tried (season 1 Murphy probably would have joined him). And I really hated it when Clarke appeared, Finn didn't even stop to think about the people he just gunned down, he was all like, "I found you!" when…. it wasn't… really… that way. .-. But yeah, you could really feel the tension in his eyes, man.
OVERALL
---
This show is getting deeper and deeper and I don't want it any other way. This is how teen shows should strive to be – no cookie-cutter characters, no candy and predictable drama, and more depth and complexity and real-life issues handled spectacularly.
Rating Report
Plot
Characters
Writing
Impact
Opening
Climax
Ending
Overall:
4.4
The following two tabs change content below.
Faye
A 21 years old Filipina who loves books, games, languages, and most especially, food. Secretly wishes to be an astronaut so she can explore the stars. Has a love-hate relationship with Philippine politics. To get in her good graces, offer her Foie Gras, Or shrimp. Or a JRPG. A YA sci-fi book works, too. You can follow her on twitter here:
@kawaiileena