What was it that Uncle Ben used to say to Peter Parker?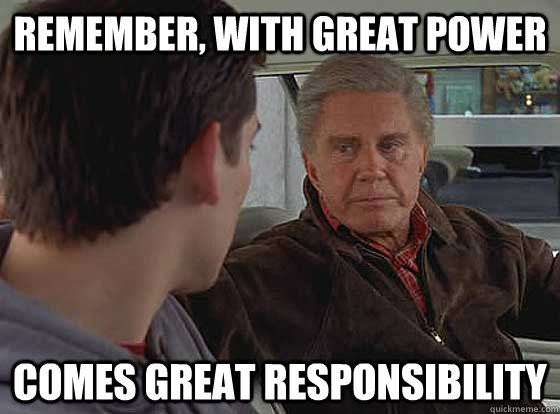 Many times I've seen this in the books I read, particularly the fantasy ones. The world is in disarray with evil and oppression seeping into every corner. Darkness fills the skies and the people have ceased hoping for a change to happen, and instead resign to their lives of misery and defeat. Then, someone comes along. A lanky boy. Or a rebellious girl. Or mayhaps the pathetic servant of a drunk lord. Whoever they are, they hold the power to change the world, to help the people in need, to make a difference.
But, usually, they start not wanting to.
And why would they, they'd ask. They never asked for their powers. They never wanted to be the chosen one. They never wanted to bear the burden of the whole world on their shoulders. How could one person stand against an enemy so great and so grand? How could one individual possibly make a dent on an evil that has oppressed the people for a long, long time? And every time they turn away from the responsibilities brought by their powers or skills or capabilities, I get a little pissed inside, because I've always believed that each and every one of us has a duty to the world. We should be honoured to be given the chance to do something for the people who wanted to but couldn't. We should, above all, try to do something, if we can do it. I thought that it didn't matter what we want or don't want, because our human desires pale in comparison when faced with great danger that has the potential to decimate everything we hold dear. Call me idealistic or unrealistic, but this was what I would feel whenever I encountered selfish people in books – people with powers who refuse to use them.
But then, I tried doing some thinking and discerning. The world right now is full of shitty people, shitty wars, and shitty diseases. If I had somehow suddenly received superpowers to stop criminals in the streets, would I actually do it? My first thought was, "Yes, I would!" but then I realized that once I put myself out there, people will start relying on me. They will start depending on me, pinning their hopes on me, and I would be in a position where I could greatly exceed their expectations or greatly disappoint them when I fail in my duties. Once I put myself out there, I wouldn't own myself anymore, at least not completely – I would be owned by the public people, because my existence will start to revolve around them and their safety. I wouldn't just be responsible for myself, I would be responsible for each and every life out there.
And then, I thought, "Holy shit. That's actually pretty scary."
Right now, if you would ask me this same question, I would probably start as hesitant. I would love to save the world, but what about me? In the end, I'm only human, and I would always, always think of myself selfishly. But I would also (probably) eventually realize that if not me, then who? There is a saying that "many are called, but few are chosen" and in the end, I would (probably) act on my calling especially if I have the powers to do it.
But who knows? This is all speculation right now and probably filled with a bit of idealistic bias. Maybe I would be a completely shitty human being and I'd turn away like the characters in the books once did (trust me, they eventually saved the world later). I'd like to think I'm more than that, though, and that YES, IF GIVEN THE CHANCE I WILL SAVE YOU, MY BRETHREN.
One thing is for sure, I won't be judging those characters anymore.
What about you? What do you think? If you had the powers to change or save the world, would you bear that responsibility on your shoulders? Let me know in the comments below!
The following two tabs change content below.
Faye
A 21 years old Filipina who loves books, games, languages, and most especially, food. Secretly wishes to be an astronaut so she can explore the stars. Has a love-hate relationship with Philippine politics. To get in her good graces, offer her Foie Gras, Or shrimp. Or a JRPG. A YA sci-fi book works, too. You can follow her on twitter here:
@kawaiileena