I don't like subtweeting.
There, I said it. Before I get started, I want to mention that while I am writing this post because of recent drama regarding subtweeting, it isn't about that incident in particular but rather about all incidents where people choose to subtweet. If you don't agree with me or think that I am absolutely NUTS, I ask that you share your opinion but also remember that I am a real human bean. (Just roll with it, I know some of you are shaking your heads, I am not a NORMAL human bean) I have feelings so don't threaten to tear me into shreds and eat me for dinner.
People may assume that their twitter accounts are their safe spaces, to say whatever they want, however they want without consequences. Now I am not disagreeing that your twitter account should be yours to do with whatever you want but I think it is important to remember that most of us don't have our twitter accounts set to private. That means that ANYONE can see what we are tweeting and take offense to what we are saying. When this happens, DRAMA happens. In this community, we have a tendency to subtweet instead of trying to talk about what is problematic/not and engaging in a discussion.
One of the reasons for this–I believe–is that we aren't not 'one community' (no kumbaya for us.) There are way too many of us for all of us to be one happy community where everyone is friends with one another and for cliques to not form. We like to stick to our own people, people who tend to agree with us.
But when you slander someone on social media, THEY WILL FIND OUT. Even if all you wanted to do was vent to some of your friends and then forget about the issue. This is why subtweeting is problematic. It might not be intentionally hurtful but if I found someone talking about me amongst a bunch of people I didn't know, I would be hurt. Subtweeting is gossiping and gossip can sometimes upset people (cue middle school talks about how rumours and gossip are hurtful and we should all be nice to one another.) When people are hurt, things happen.
For example, I might not know what was on your mind when you were talking about me on the internet. I might automatically assume that you are the worst human bean that lived in the worst lands ever. I don't know your life or story and because I don't know you, it'll be worse. How can a person I don't know very well suddenly see it fit to make judgements about my character based on something I might have done without any other context surrounding my actions? (That is a long sentence, I am sorry) I might feel the way Nicki did when Miley trash talked her in the media.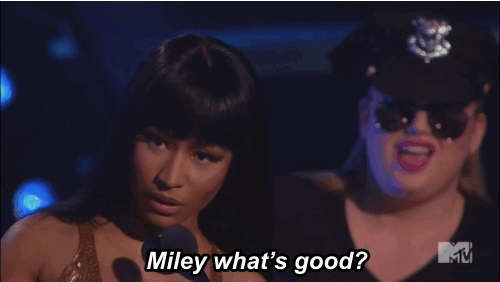 If confrontation happens (which it won't always because some people are non-confrontational), two parties will probably end up having a bad/mediocre day. It won't just be you being upset but someone else you have hurt through your subtweeting. Unfortunately, I've also seen incidences where people subtweet about their own friends. You would think that something like that wouldn't happen but it does.
If you're like me and hate confrontation, you might sometimes choose to passive-aggressively subtweet because it feels safer but believe me, in the long run, there is a good chance you will end up hurting someone's feelings even if that isn't what you wanted.
So why can't we, as a community, just get together and engage in discussions? Why is it that we resort to subtweeting? Why do we believe it's okay to slander one another in public places?  I DON'T KNOW. It REALLY makes me mad though. And I admit that I am part of the problem because sometimes I don't know how to confront people, especially if they come off as a rude and seem unwilling to engage in a discussion. But we cannot keep going on this way.
How many dramas will we endure caused by hurtful subtweeting and mean words said behind each other's backs? I thought we were better than this as a community. I might not be friends with every single person in this community. I might not even know every single person in this community but given that we all have several things in common, we shouldn't feel uncomfortable reaching out to each other.
The simple truth is that there are going to be very few times when everyone is on the same page about something (i.e. WE LOVE BOOKS.) Instead of getting angry because we don't agree, or because someone said/did something that offends us, we could try out the kumbaya thing and at least attempt to be civil to each other.
So, if there is something someone shared on their blog that you might disagree with, COMMENT ON THE POST. If someone tweeted something that doesn't sit right with you, tweet at the person or even send them a private DM or email telling them why you are offended by what they said. Engage in healthy discussions as opposed to emotionally draining subtweets. Or you know, do what we all sometimes do: Rant to your friends in PRIVATE. Aka not on your twitter feed where the person in question will see rants, have their feelings hurt and probably spend the day being angry/upset.
I guess the reason I decided to talk about this is because all the drama within the community keeps bringing me down. It hurts me to see us fighting. It hurts me when someone attacks my friend for no reason other than they weren't sure how to talk through a disagreement. We aren't just usernames on the internet, we are all real human beans behind our screens (OR I WOULD HOPE SO because otherwise we might have problems… actually though, I am not even a real human bean so oops, y'all are screwed). So let's just TRY to be nice. BROWNIE points for people who decide to have a conversation instead of attacking the other person. *throws puppies and kittens in everyone's faces* (I know there is a bunny in the gif, not a puppy. The gif was too cute for me to pass up)
The following two tabs change content below.
Rashika
Rashika is a mysterious creature who likes to hide in the shadows. It's impossible to get to know her but if you must know, she is a huge bookworm. She also happens to have a huge sweet tooth so you can always lure her over the dark side by offering her something sweet (or bribing her with books).